When you've learned to play the guitar, the moment has likely come when you'll be faced with recording your playing. Of course, you'll need a special place and equipment, but above all – a quality instrument. And in this article, I will tell you about the best acoustic guitars for recording, each of which can facilitate the process and, most importantly, provide the highest quality results. Today it is not so difficult to make a recording even at home. Thanks to the development of technology, there is an incredible amount of microphones, amplifiers, and software for the use of which no special additional knowledge is required. But the fact that the sound depends primarily on the guitar has been forgotten by many people. So first, I'll tell you what criteria determine a good guitar for recording.
Our pick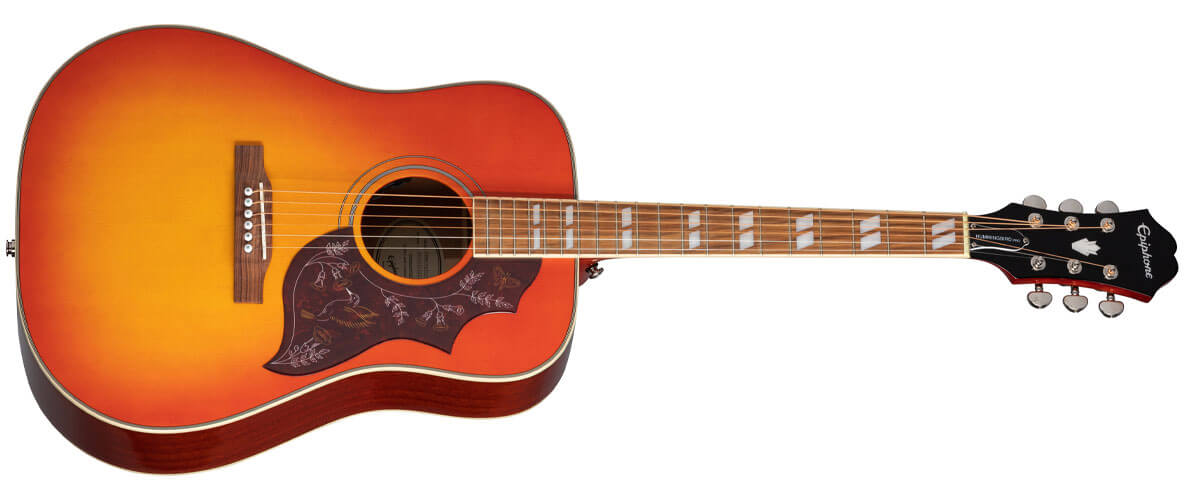 Epiphone Hummingbird Studio
Best acoustic guitar for recording
The Hummingbird Studio is an acoustic/electric, which updates the 60s classic with a solid spruce top, mahogany neck, and body. Also, it has Grover Rotomatic tuners, Hummingbird pickguard, and Fishman Sonitone electronics.
Read the full review
.
Acoustic guitar for recording comparison table
Guitar
Scale, in/cm
Fretboard radius, in/cm
Neck joint
Detailed review
Epiphone Hummingbird Studio

best overall

24.7/62.8
12/30.4
glued-in
Review
Ibanez AE325
25.5/65
16/40.6
glued-in
Review
Gibson J-45 Standard
24.7/62.8
12/30.4
glued-in
Review
What makes a guitar for recording?
With an acoustic guitar, you can record absolutely any kind of music. But, of course, it all depends on your musical taste and level of playing. And I'm sure you'll agree that the choice of a guitar depends primarily on what style you're playing and what kind of results you want. But, on the other hand, some aspects are common to any guitar regarding quality recording.
Body size
It's worth starting with the size and shape of the guitar. I recommend choosing full-size Dreadnought-style guitars because they provide the maximum projection. In addition, these guitars usually produce a surround loud acoustic sound, which will be important for recording even if you have the simplest equipment (for example, a microphone) at home.
Pickups
Sound pickups are not a necessary part of an acoustic guitar, and often such instruments do not have them. In this case, the recording is done with a microphone, as already mentioned. But I want to draw your attention to universal models with the possibility of connecting special equipment for a higher-quality recording. Because not even the most professional microphone will give you the detail obtained by the signal directly from the instrument's strings. When you buy such a guitar, you get a great acoustic that you can use at home, in the studio, and even on stage!
Guitar tonewood
The material with which your guitar is made impacts its sound greatly. Manufacturers in the market today offer natural, pressed, and even artificial parts, offering the most optimal combination of the overall sound, durability, and price of instruments. But nothing sounds like wood, which has natural resonating properties. So you can find guitars made of Maple, Spruce, Rosewood, and many other types. You can also find combination models. However, the winner in this category is definitely Mahogany.
Tuning Pegs
Many people forget about such a detail as the tuning pegs. However, it's an important part of recording guitar. After all, recording involves prolonged instrument use, repetition of parts, and work in studio (or home) conditions. In this case, the tuning pegs must be comfortable, and the guitar should hold a perfect tuning so you won't get distracted. So I recommend tuning pegs of closed type with maximum gear ratio. Such tuners are not subject to dirt accumulation in the mechanism, so they won't let you down when you need them. And the more number of revolutions of the stake provides more accurate tuning.
Best acoustic guitar for recording reviews
I am glad to share with you the Epiphone Hummingbird Studio review. This acoustic-electric guitar deserves attention because its predecessor Epiphone Hummingbird Pro has long earned its popularity among tens of thousands of fans worldwide. Even earlier, in the 60s, the first Hummingbird guitar was introduced by Gibson, played in its time by Keith Richards, Dave Davis, and even the Beatles. And today, it's a beautiful budget-updated classic, a premium alternative for those who appreciate quality and sound.
Body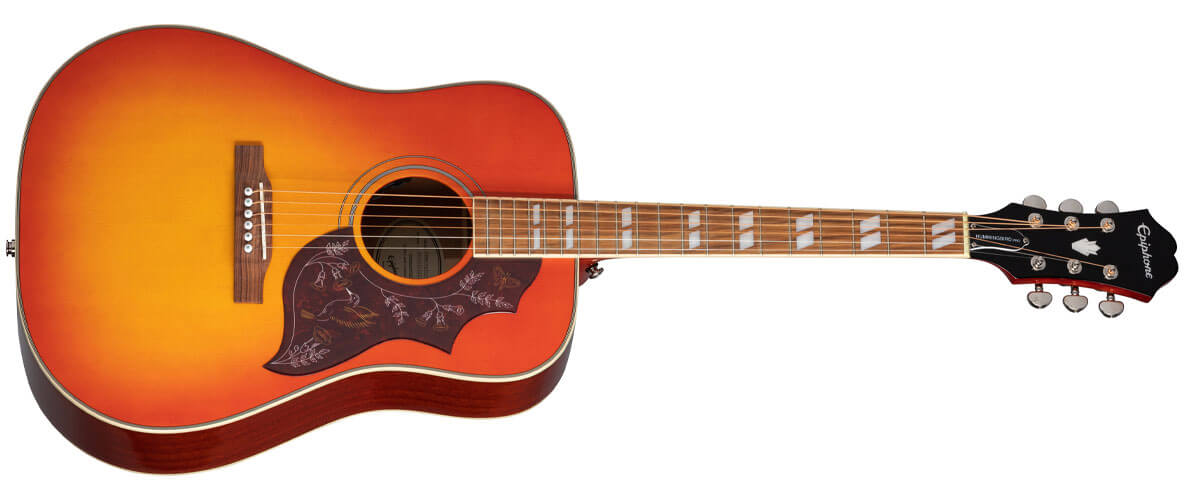 The guitar's body is made in the Dreadnought shape with a classic Hummingbird Pickguard. It has no cutaway, which makes it difficult to access the top frets. This guitar is large, with square shoulders, and its scale is 24.75 inches long. The top material is solid spruce, and the side and back are mahogany, which makes it durable and contributes to a great sound. The glossy surface finish will also keep your instrument looking good for a long time.
Neck, fingerboard, headstock
The elegant 12" radius Slim Taper D fingerboard is made of mahogany and is dovetailed to the body at the 14th fret. The Pau Ferro with Pearloid Twin Parallelogram inlays fingerboard has 20 Medium Jumbo frets. The fingerboard is very comfortable for my hands, and I think it should also be comfortable for small hands. The Grover Rotomatic 18:1 tuners look pretty sturdy and tune easily. All of this ensures that the guitar is singable and long-lasting.
Pickup system
What makes this excellent model modern is its electronics, thanks to which you can get an amplified acoustic sound, even on stage. The Epiphone Hummingbird Studio acoustic-electric guitar has a Fishman Sonicore under-saddle pickup system and a Fishman Sonitone preamp. Remember that when you play acoustics with electronics, you will lose out on the lower frequencies one way or another. But it is a necessity because otherwise, the guitar will boom.
Sound quality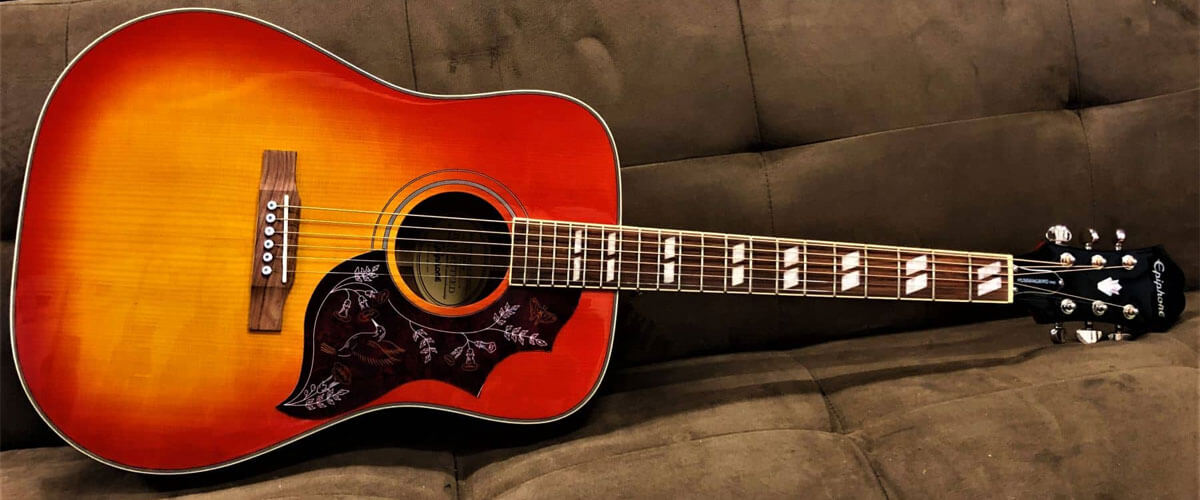 Thanks to its retro-style shape, build quality, and the features described above, Epiphone Hummingbird Studio can provide a loud, deep, spacious sound with good projection. A balanced, resonant sound will reach every corner of your room. Of course, you shouldn't expect it to be flawless. But considering the price, it completely satisfies all the objectives.
Key specs
Scale, in/cm: 24.7/62.8.
Frets: 20.
Fretboard radius, in/cm: 12/30.4.
Type: acoustic/electric.
Body material: mahogany.
Neck material: mahogany.
Neck joint: glued-in.
The best acoustic guitar for recording in my rating is the famous Epiphone Hummingbird Studio. It combines all the features you need for quality recording while selling at an affordable price. Today it is a budget classic that can make an alternative to premium guitars for those who do not have the opportunity to buy an expensive model. Its sound is voluminous, deep, and clear, and that's exactly what we need.
Ibanez AE325
I offer my Ibanez AE325 review for connoisseurs of modern classics, combining the elements of traditional luthiery and modern design. It is a great value-for-money acoustic-electric guitar from the AE series, offering a classic look and pleasant sound. The instrument was released in China in 2020, and in 2021 its body was slightly enlarged. This model is capable of winning many hearts. Let's take a closer look at the Ibanez AE325 specs!
Body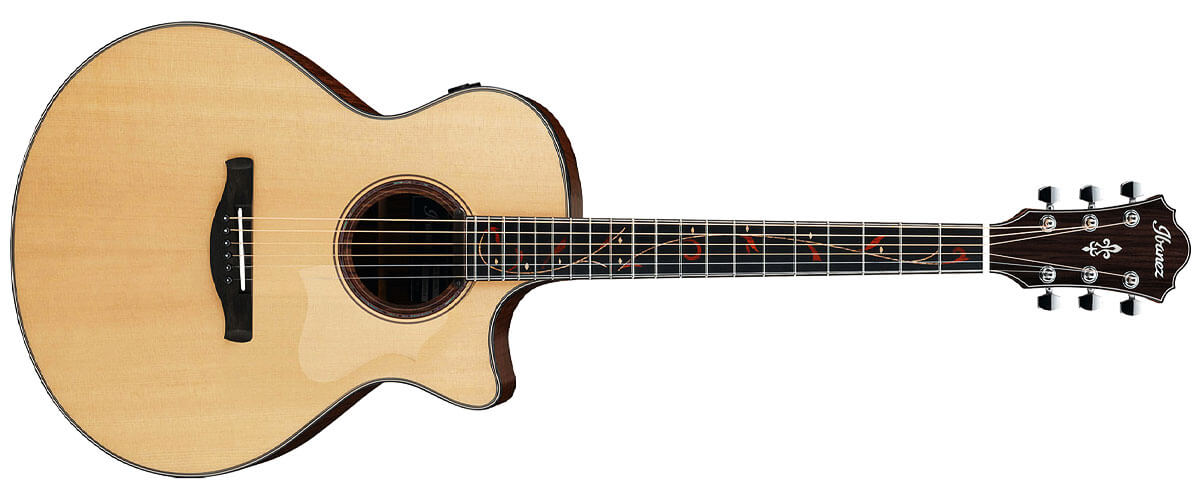 So, let's start with the Venetian resonator-shaped guitar body with a Solid Sitka Spruce top in Natural Low Gloss color, which gives the instrument a warm sound. The shape is worth paying attention to, as it was designed for projection, balance, and comfort, thanks to the narrow waist and neckline. The balanced sound and stability are also helped by the unconventional, years-proven Ibanez X-M Bracing system. You'll feel the benefits of the vibrations as soon as you start playing. The sides and back are made of Flamed Okoume with a glossy finish. As a result, the guitar feels really good in your hands. The satin polyurethane finish makes the wood grain of the AE325 stand out in the stage light and also protects the surface from minor damage.
Neck, fingerboard, headstock
The 5-piece Comfort Grip fingerboard with rounded edges and Ebony and Pau Ferro overlays is dovetailed to the body. It is sturdy and comfortable in hand, allowing you to perform complex dynamic compositions effortlessly. The Macassar Ebony fingerboard has 20 frets, and the Specially designed Wooden Vine inlay and Luminlay side dots look impressive and will be remembered by the audience. Rounding out the components include a compensated Macassar Ebony scalloped bridge saddle with Ibanez Advantage stakes, a bone nut, and chrome molded tuning knobs. The tuners 18:1 are soft, easy to tune, and hold the tone well.
Pickup system
The guitar's electronics are very good quality and hybrid (two-way). The Magnetic Ibanez AP11 pickup is small, lightweight, mounted on the fingerboard, connected to an Ibanez Custom Electronics preamp, and captures the sound clearly at any frequency, giving the guitar a natural clean sound. Handles chorus and reverb perfectly. The sound is also sent to the T-bar pickup, which has a separate control. That means this system will allow you to play any genre of music. There are Dual Outputs (Mono Out / Stereo Out), so you can use two pickups, or just one, according to your taste. What also distinguishes this model from others in its class is the natural bone nut and the compensated bone saddle, which affect the frequency balance and stability.
Sound quality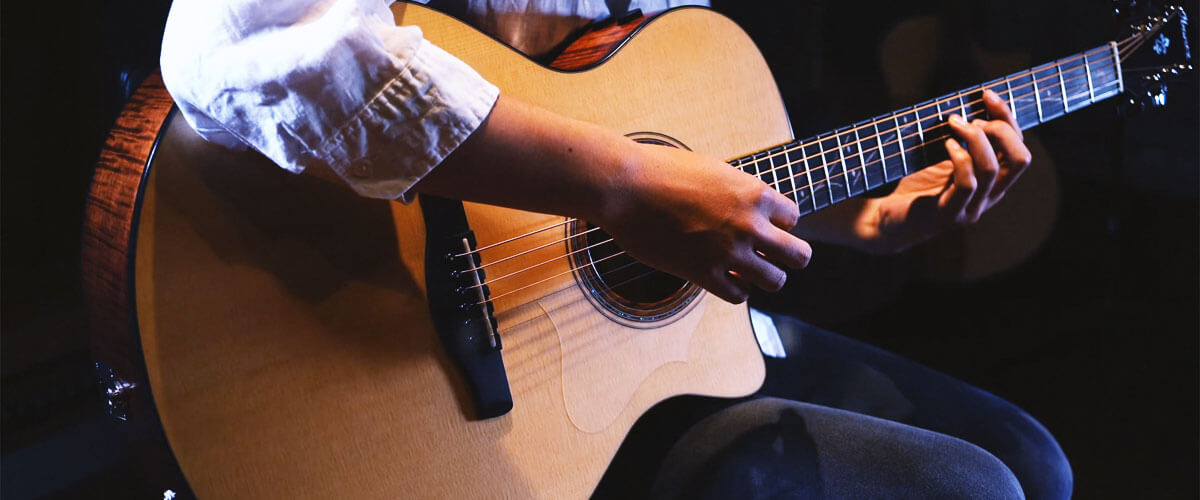 In fact, I've already explained above what factors affect the sound of the Ibanez AE325, and I assure you it sounds great. You can really play all genres, from blues to rock. The bass is clean, the treble and midrange sound clear, and the sound is spacious and quite loud. I even tried a combo on it, and it worked! This model will not disappoint you. Of course, there are more expensive versions, but in its category, the instrument can surprise even the experienced musician.
Key specs
Scale, in/cm: 25.5/65.
Frets: 20.
Fretboard radius, in/cm: 16/40.6.
Type: acoustic/electric.
Body material: ebony.
Neck material: mahoganyy.
Neck joint: glued-in.
The slightly more expensive Ibanez AE325 is also perfect for your recording needs. The guitar electronics offer high quality, and the instrument itself is versatile, and you can play any genre on it. The guitar's voluminous and loud sound offers clean, deep lows and crisp highs and lows. It is not made of Mahogany, but its resonating capabilities are very good.
Gibson J-45 Standard
This Gibson J-45 Standard review will introduce you to one of the most famous models, nicknamed the "Workhorse," and was introduced back in 1942. This classical acoustic guitar is capable of a lot, which is why it has earned respect among connoisseurs and is the top-selling of all Gibson guitars. In today's world, it sounds just as traditional, but yet in a modern electronic frame. So it's worth taking a closer look at it, don't you think?
Body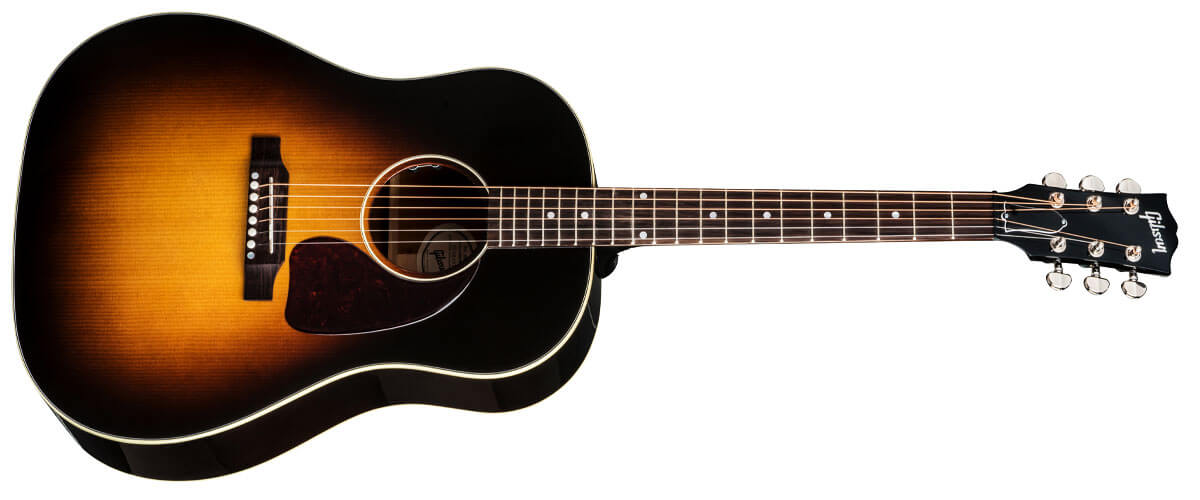 The Gibson J-45 of the Jambo line of round-shouldered Dreadnoughts is built with beautiful tonal woods that make it sound rich and powerful. The solid Sitka Spruce top is multi-layered, and the side and back are made of high-quality Mahogany that will last and promote hard playing if you like it. Balance and stability are guaranteed thanks to the traditional hand-scalloped X-bracing system. The body itself is very comfortable, with smooth lines, and thanks to the Gloss Nitrocellulose Lacquer coating is pleasant to the hand and durable.
Neck, fingerboard, headstock
The Slim Taper neck with Compound's Mahogany Dovetail mount has a 12 in radius and Scale Length of 24.75 in, making it more likely to be comfortable for small hands and fingers. It's just easier for them to maneuver over the frets. The fingerboard is made of Rosewood and has 20 standard frets and Mother-of-pearl Dots inlays. The use of such high-quality woods makes the fingerboard stable and durable, as well as affects the great ringing sound overall. In general, as always with Gibson, expensive popular guitars have roughly the same features that make them so. Grover Rotomatics w/kidney buttons tuners are no exception. They're reliable, soft, and easy to operate.
Pickup system
The Gibson Acoustic J-45 Standard has LR Baggs' VTC pickup system, which is quite popular among musicians. With its discreet interface, this Under Saddle Pickup does a great job and is attached inside the sound hole as a Preamp and Volume/Tone controls. The whole system provides a lively acoustic sound with excellent dynamics and timbre. As with other popular Gibson models, nothing interferes with your playing, either visually or actually. Standard and classic, in this case, are undeniable advantages for connoisseurs of elegance, restraint, and comfort.
Sound quality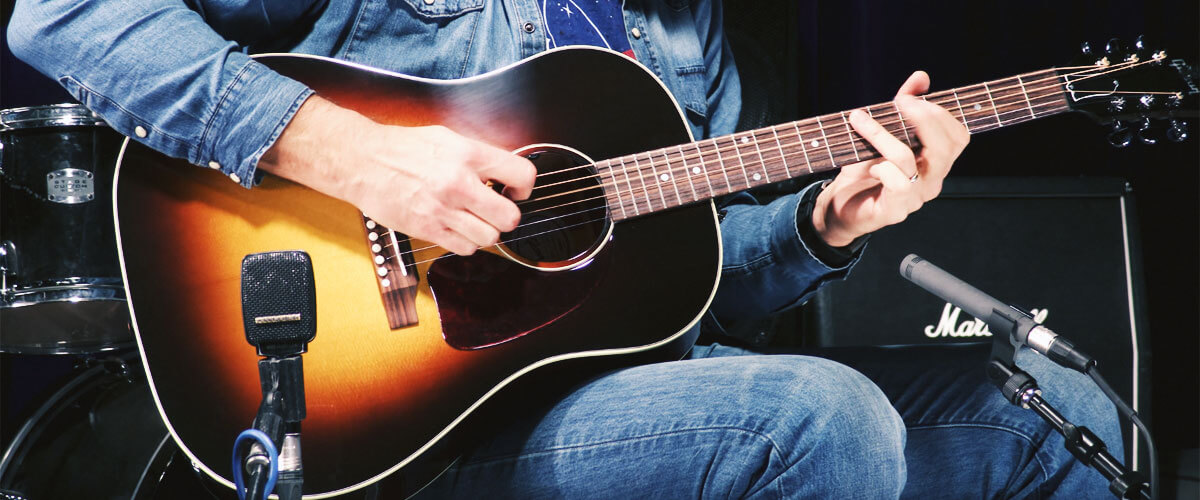 So, the Gibson Acoustic J-45 Standard is made to sound amazing. It really can do a lot, whether you play rock, pop, country, or blues, the range is wide and bright. The instrument emphasizes the treble; the midrange sounds balanced and thick, while the bass is warm and soft. You may not get the clearest acoustic conversion with electronics if you need it. In that case, you should use an external microphone - it solves all the issues. The guitar is expressive and definitely will not leave you indifferent.
Key specs
Scale, in/cm: 24.7/62.8.
Frets: 20.
Fretboard radius, in/cm: 12/30.4.
Type: acoustic.
Body material: mahogany.
Neck material: rosewood.
Neck joint: glued-in.
A true studio acoustic guitar for recording is the Gibson J-45 Standard. An expensive all-purpose model for those who appreciate quality, proven over the years. After all, this is the famous "Workhorse" since 1942, which has earned its place as a leader among professionals worldwide. Stunning sound with accented highs, balanced mids, and warm bass will be your reward from your recording.
FAQ
How long do guitars last?
Buying a good instrument involves spending money. And if you're following your dream for a long time, you'll want to know how long your investment will last. Sure, the more expensive models imply better quality and, therefore, longevity, but any guitar can last as long as you want it to. All you need to do is to ensure that you take care of it and, if necessary, replace parts of your instrument on time. Whether it's an acoustic, classical, or electric guitar, there are certain rules for storage and use, which you can learn more about in
this article
.
Should I record mono or stereo guitar?
The answer to this question depends on the result you want to achieve. In most cases, the guitar is recorded in mono. It is because it's a clearer sound. But that doesn't mean you can't use stereo. It's just that the guitar will give you a fuller, richer sound. You can also use multiple microphones, choosing a separate track for each. Electric guitars are also preferably recorded in mono, using a "double track," since they don't give the right result in stereo.
If you also record vocals, they will sound more powerful, louder, and clearer in mono. In this case, it is better to record several vocalists in stereo.
How can I practice guitar without bothering neighbors?
The eternal question of all enthusiasts. And you should be honored and praised if you think about it. But it's really not that complicated. For an electric guitar, headphones are the way out. In this case, no one but you will hear the instrument (unless you're singing at the time), and you won't hear anything but your playing.
In the case of acoustic guitars, you'll have to prepare. For example, replace the strings with lighter strings; the instrument will sound quieter. You can use a damper, which can be bought or built with your own hands. You can also fill the body of an acoustic guitar, then the resonance will be much less or use a muffler for acoustic holes. Finally, you can dampen the sound with the palm of your hand, and of course, it is better not to use a plectrum, but these are less effective ways. Among the radical ways, I would refer to equipping the room with sound-absorbing or insulating materials, but it will eliminate the problem once and for all. Good luck!