In this article, I have chosen the best guitars for Сorridos, an extraordinarily beautiful and unique style of music that originated in Mexico about 200 years ago. Corridos are narratives about epic battles, other significant events, heroes, anti-heroes, and journeys that have influenced and changed the world, essentially a history in songs. You've probably heard this performance style, so you know how clear and bright your guitar should sound. Not every musical instrument can provide that sound. So first, consider what parameters you should pay attention to when choosing the most appropriate instrument for this style.
Our pick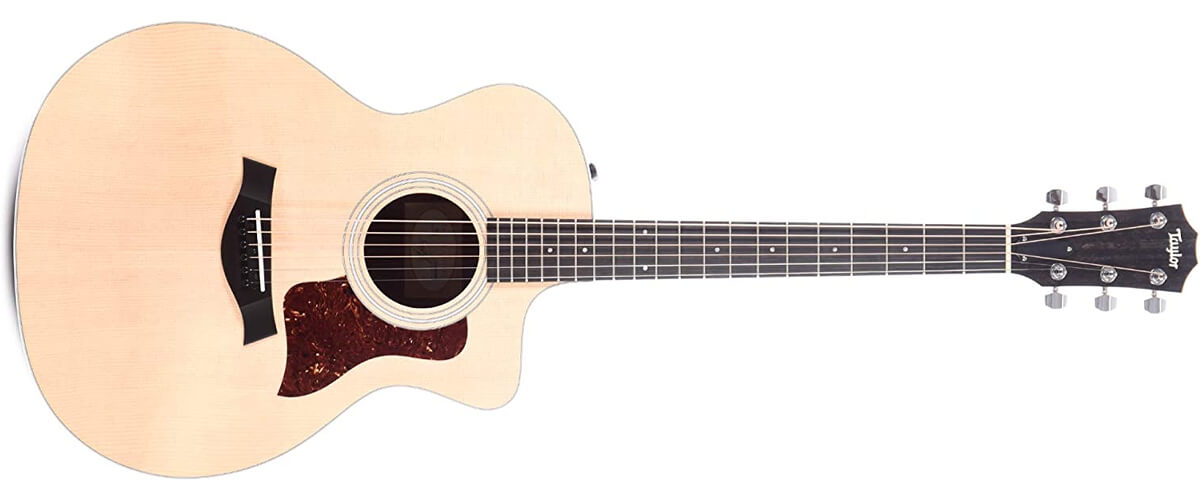 Taylor 214ce
Best acoustic guitar for corridos
The Taylor 214ce solid spruce top offers rich projection and clarity, layered rosewood for warmth and visual beauty, and the grand auditorium body shape is musically versatile.
Read the full review
.
Acoustic guitar for corridos comparison table
Guitar
Scale, in/cm
Fretboard radius, in/cm
Neck joint
Detailed review
Taylor 214ce

best overall

25/63.5
16/40.6
glued-in
Review
Yamaha C40II

budget

25.9/65
14.9/37
glued-in
Review
Taylor BT2
22/55.8
12/30.4
glued-in
Review
Martin GPC-X2E
25.4/64.5
21/53.3
glued-in
Review
How to choose a corridos guitar?
Action
Guitars used for Сorridos often use barre (when you clamp all strings with one finger) and chords on farther fret, so first of all, you should pay attention to the strings' height above the fingerboard because we will need Low action. It makes it easier to play in these manners, and you won't feel tired or overstretched while playing because, in this case, the distance between the guitar strings and the guitar fingerboard will be less, which means less downforce is needed.
Skyle length
Corridos are essentially a kind of fingerstyle, which means it is better to use guitars with a standard or even shorter Scale Length. That is 25.5″ or 24.75″. It ensures a low tension of the strings, so your fingers will not have to pull away with great force. As a result, playing will be easy and smooth, which is what we need.
Body size
As for guitar size, I would recommend choosing smaller instruments. You don't need the deep, three-dimensional sound that full-size guitars give you to play this style. A guitar with a narrower body should be easier to play, and the harsh sounds inherent in that size are what you need for Corridos. Although, of course, any parameter is a subjective value. The musician should feel comfortable, and that is the most important thing. So screen out any advice if playing is uncomfortable for you.
Best acoustic guitar for corridos reviews
In my Taylor 214ce review, I'm going to tell you about a guitar that I have a lot of positive feelings about. I will praise it in the article, but I will try to build the review objectively so everyone can conclude. You can compare this model, perhaps, with another Taylor 114ce. They are similar in many ways, but some differences, in the end, make the instruments sound different, and that is what we will pay attention to. Well, it's time to get started!
Body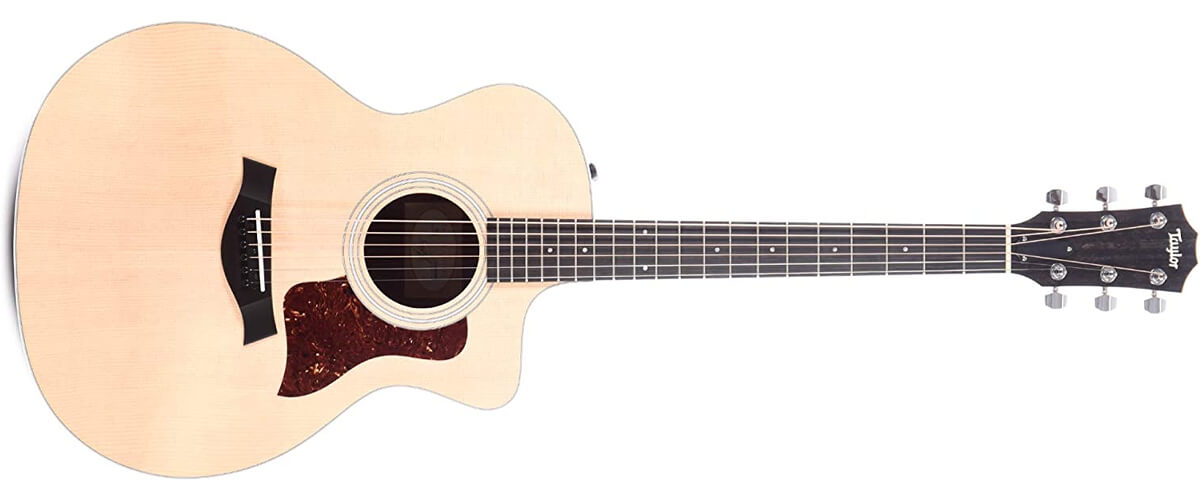 The shape of the Taylor 214ce resembles a Dreadnought, but it is actually a Grand Auditorium with a tapered waist. This shape and elegant Venetian cutaway provide incredible comfort and easy access to the high registers. The top is made of solid Sitka Spruce in a lovely light shade. And it is adorned with a plastic Rosetta consisting of three rings and a Tortoise Pickguard that gives the guitar an upscale look. And a white edge binding completes the design. All in all, I'm thrilled with the way it looks.
The material of the sidewall and back of the guitar is Layered Rosewood. And that's exactly what sets it apart from the 114ce model, which has those parts made of Laminated Sapele. And it's this substitution that makes the 214ce sound different. For example, it sounds brighter and has more pronounced treble and bass. In comparison, the 114ce wins in the mids. All in all, it just depends on your taste in tonality here.
In addition to all of the above, the kit comes with a soft gig bag for protection during transportation. A nice bonus. By the way, it is also very stylish: made in beige with Taylor embroidery and a comfortable handle for carrying.
Neck, fingerboard, headstock
This stunning maple fingerboard has a West African Ebony overlay and a scale length of 25-1/2". It's so great because it's incredibly comfortable to hand. Speed playing that's what I love, so I always test the fingerboard first. And this one is very good. It's worth noting here that the guitar has 20 frets.
The NuBone nut is not optimal, but upgrading it won't cost much if you decide to do so. Its width is the standard 1 11/16″, and I enjoyed playing it.
As for the factory tuning of the guitar, there was none. So I had to tune it out of the box. That said, the procedure is simple, with the proprietary Taylor Die-Cast Chrome Tuners sealed tuning mechanism providing smooth action and high accuracy. But after that, it held the line just fine for a long time, although I was pretty hard on it.
Sound quality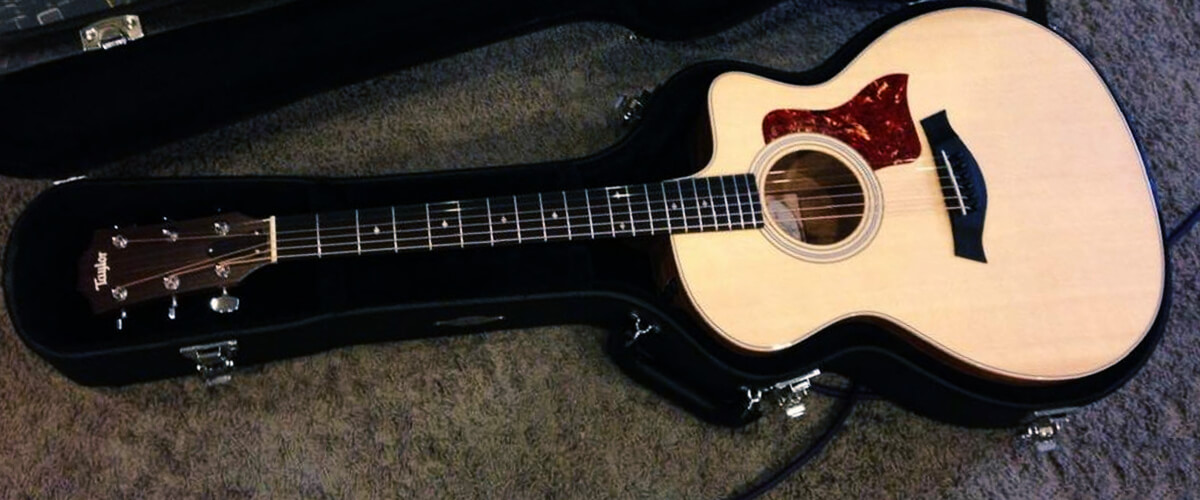 Well, we've got the design and playability figured out, so let me tell you how the Taylor 214ce guitar sounds. As I mentioned earlier, comparing this model to the 114ce, the guitar's overall tone is bright and voluminous, with good volume to fill a medium-sized room. Great treble and bass and a little bit of sagging in the mids. I don't classify this as a flaw but more of a taste. The guitar produces clean notes, and the resonance from the body is luxurious. I would say it has excellent responsiveness, so obedient it was in my hands. Combined with the excellent sustain, I would conclude that this is a guitar for sophisticated musicians.
To complete the overall picture, it should be said that the 214ce is equipped with Expressive System 2 electronics. For those who want to use an amplifier, I hasten to report that the guitar did not lose its original acoustic tone in the sound but continued to sound just as natural. These electronics are very good quality, so with all the components, I was not surprised by the instrument's price, and I think the guitar is worth every penny!
Key specs
Scale, in/cm: 25/63.5.
Frets: 20.
Fretboard radius, in/cm: 16/40.6.
Type: acoustic/electric.
Body material: rosewood.
Neck material: mahogany.
Neck joint: glued-in.
The best acoustic guitar for Corridos on my list is the Taylor 214ce. With great initial parameters, although it is full-size, its sound is spot on. Along with the guitar's overall bright tone, you'll hear incredibly clean treble with terrific responsiveness and resonance, much more resonant than other models. Despite its not-so-affordable price, it's worth every penny of the investment.
Yamaha C40II – budget
If you're looking for a quality entry-level guitar, my Yamaha C40II review will be helpful for you. Yamaha knows how to make music, so even with inexpensive models, you can find details that put the company's products at the top of the ranks among competitors' models of the same rank.
A full-size acoustic instrument (without electronics) offers us quality worthy of the legendary brand, attractive design, pleasant surround sound, and versatility at an extremely affordable price. Any beginner would be proud of such an acquisition, and for more experienced players, the guitar can serve as an additional/replacement guitar in the collection. So let's take a closer look at it.
Body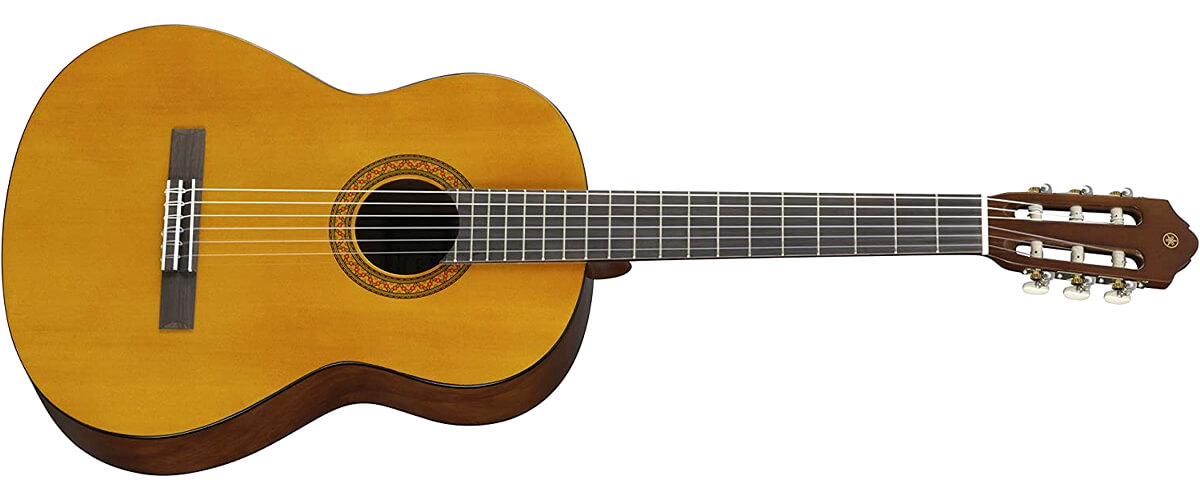 The guitar is a Classic guitar and does not have a cutaway. It is very lightweight, so it is easy to carry to class, take on trips, or use at home. The top is made of Spruce, so despite the apparent economy of materials, the guitar has a great warm tone. The sides and backrest are made of Locally Sourced Tonewood. In this case, it's Meranti plywood, a type of Mahogany. The whole surface is Gloss, shines beautifully in the light, and is resistant to external influences. And a very nice ornamented Rosetta completes the image, by which you can recognize this model. I liked the guitar's look, and it didn't seem cheap, though I would treat it carefully. There is a feeling that its coating is not very resistant to impact, although the construction itself is quite sturdy.
To conclude the design description, perhaps we should mention the Rosewood Bridge, which fits perfectly into the overall image. And also the nylon strings, which are ideal for beginner players.
Neck, fingerboard, headstock
The neck of the Yamaha C40II is classic, very comfortable to hand, and definitely suitable for those who are just starting their way as a guitarist. It is made of Nato and has a Matte finish. The Rosewood pad is dark and blends nicely with the overall style, but it has no markings for some reason. It was a surprise for me. If a manufacturer positions the model as an entry-level one, why didn't they make it easier for a beginner to navigate on the fingerboard? Of course, one can get used to anything, but that's strange.
There are 18 frets on the 22.8" scale. It is a normal amount for a classical guitar, but access to the upper registers was very convenient despite the lack of a cutaway.
I like the headstock guitar. Made in the Spanish style, it fits perfectly into the design. It has Urea nut and beautiful and reliable chrome pearloid tuners (RM-1252X), which is good for such an inexpensive model. The guitar sounded pretty good out of the box, but I tried the tuners anyway. They are soft and hold the tuning well, although such things should be tested over time.
Sound quality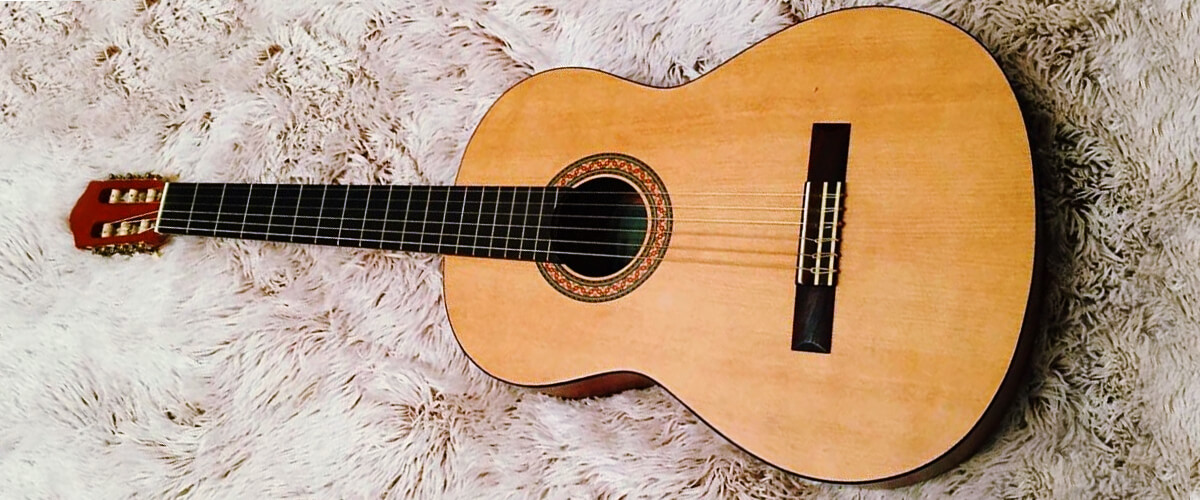 All that's left to say about the Yamaha C40II sound. Well, as I said before, it is made of simple, inexpensive (but reliable) materials, so it will not give you the sound of natural wood. But its sound is nice and voluminous, though not deep and powerful. I don't think this is a drawback if we talk about an entry-level guitar. While playing, the resonance was good, and the notes sounded smooth and clear. I didn't hear any pronounced high or low frequencies, and everything was smooth and soft, which is not surprising for nylon strings.
Key specs
Scale, in/cm: 25.9/65.
Frets: 19.
Fretboard radius, in/cm: 14.9/37.
Type: acoustic.
Body material: tonewood.
Neck material: tonewood.
Neck joint: glued-in.
The budget Corridos guitar on my chart is the Yamaha C40II. As a classical guitar, it offers a shortened 22.8″ scale with 18 frets and lightweight nylon strings, as well as easy access to the upper registers, despite the lack of a cutout. The inexpensive parts don't give you any warmth, but the guitar sounds tinkly and bright, which is just right for Corridos.
Taylor BT2
Taylor has long established itself in the acoustic guitar market as one of the most famous manufacturers of these musical instruments, so it's no surprise that its diverse lineup includes a miniature model. So this Taylor BT2 review is about a little guitar affectionately called the Baby Taylor. Perhaps it can be compared to the Little Martin, as they are in the same price range, and both are suitable for travel, beginners, children, and people of small stature while having excellent quality materials and sound. So, with my pleasure, let me introduce you to BT2 in all its glory.
Body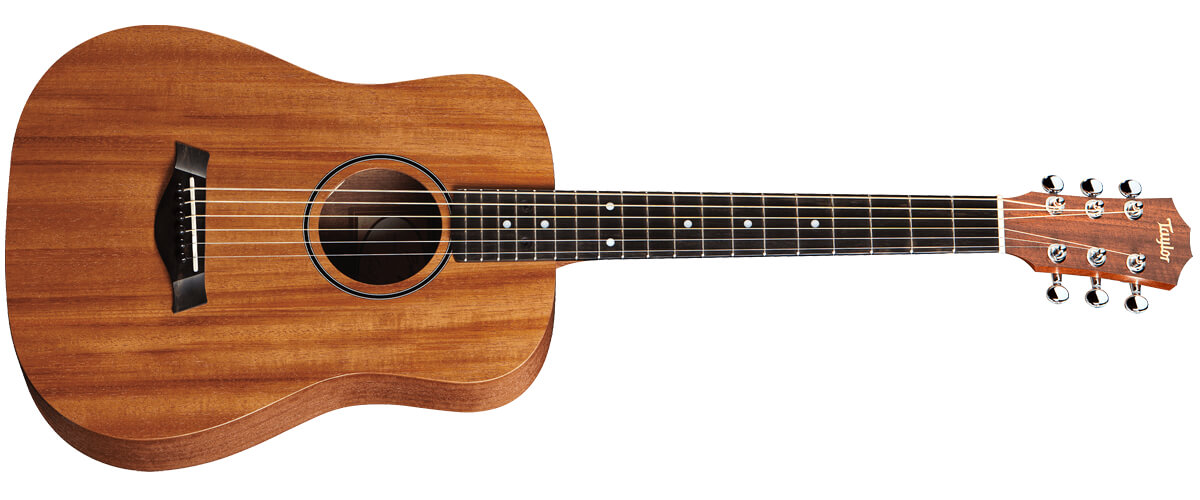 So, in shape and size, the Baby Taylor is similar to the Little Martin, which means it is ¾ of a full-size Dreadnought. The Top is made of Tropical Mahogany, and the cowl and back are made of Layered Sapele. This is not a bad claim for resonating properties, even though this size cannot give a loud, voluminous sound. The overall look is excellent due to the preservation of the wood grain on the Top and the Black Rosetta with thin white edging. A complete visual sense of the instrument's natural, original feel. The guitar has no notch, and there is no Pickguard.
As for construction stability, the Standard Baby X-Bracing is used here. I didn't find the Taylor BT2 to be flimsy or unreliable. Though it is positioned as a touring one, it is durable.
The general impression of the appearance and design is very pleasant, and the belonging of the tool to a famous brand is evident. For example, the bridge is made of high-quality African Ebony. As for many other Taylor models, you will find an excellent gig bag in the kit. A nice bonus.
Neck, fingerboard, headstock
The fingerboard, in terms of review, caught my attention. It was attached to the body using the Finger Joint technique, which allowed the heel to be removed. So it was easy to reach the upper register, even if I didn't have a cutout. In addition to this advantage, the Baby Taylor's fingerboard was very comfortable, with a pronounced curve and Matte finish.
The fingerboard is a nice touch, too, since it's made out of West African Crelicam Ebony, which sets it apart from the competition. This material has excellent tonal qualities, and in this model, the fingerboard looks simply gorgeous while maintaining its natural structure. Again, the marking is quite standard - 4mm Dot Italian Acrylic. The scale is 22.75 inches long and consists of 19 frets.
Even out of the box, the guitar was well-tuned, but I still tried the Taylor chrome tuners, even though I know them from other brand models. They are, as always, perfectly tuneable, and I suspect they hold the tuning pretty well. Though, to be honest, I didn't have a chance to check it by playing for a long time. However, the BT2 withstood my hard knocks on the strings with dignity. It remains to be noted that the saddle is made of micarta, so I would replace it if I were you.
Sound quality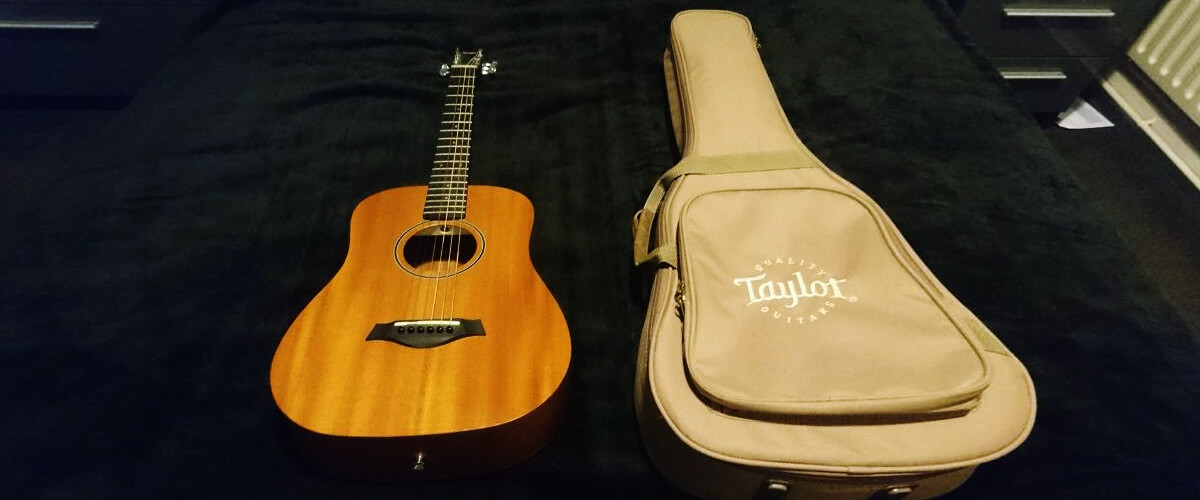 So, in conclusion, what is the sound of the Taylor BT2? I've already mentioned that it just can't be loud because of its size, but it's not quiet, either. The bass and midrange are at a high level, audible clean, and clear when I play with my fingers. Every note can be heard, the gamut is not blended, and the overall tone is nice and soft.
It is a worthy competitor to other models in a similar category, including the Little Martin, which I highly appreciate. I can confidently recommend it not only to beginners, children, travelers, or women but also as an additional "take-away" guitar for any musician.
Key specs
Scale, in/cm: 22/55.8.
Frets: 19.
Fretboard radius, in/cm: 12/30.4.
Type: acoustic.
Body material: mahogany.
Neck material: maple.
Neck joint: glued-in.
The Baby Taylor BT2 has a ¾ body of a full-size Dreadnought and a Scale Length of 22.75 inches with 19 frets. It is incredibly easy to play, comfortable, and portable. Its diminutive size doesn't sound voluminous or loud, but soft and not annoyingly clean, which suits the Corridos style so well. And with its affordable price, your enjoyment is guaranteed even greater.
Martin GPC-X2E
I've prepared a Martin GPC-X2E review for you because many people can afford to buy this guitar, and the main thing is that it really deserves attention. This electric acoustic model has great data, a fair mid-affordable price, and looks just great.
Martin Guitars is known among connoisseurs for models of various ranks that have gained well-deserved popularity due to their quality construction and natural acoustic sound. So let's take a closer look at this model.
Body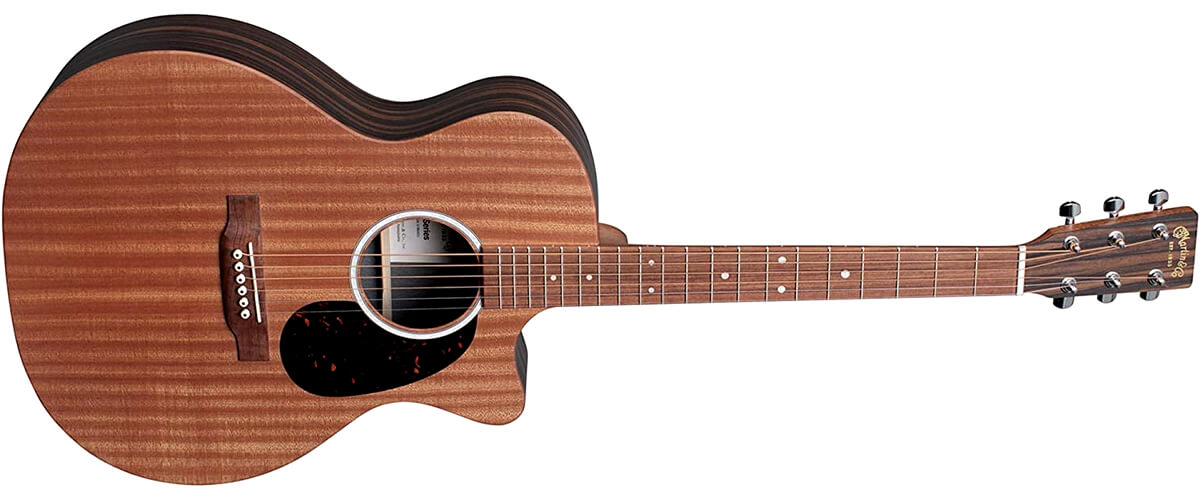 The mid-size Martin GPC-X2E looks incredibly stylish in Grand Performance size, and the three Rosewood, Mahogany, and Macassar options are available. I happened to have the Macassar in my hands, but they don't differ in any way other than the Hand-Rubbed color finish. The guitar has a cutaway, so there is access to the high registers whether you are playing sitting or standing. I was very comfortable with it due to its smooth rounded edges.
So, the top of this guitar is Sapele, and the back and sides are made of HPL (High-Pressure Laminate), just like the rest of the X-series guitars. But the internal scalloped X-brace system is made of Sitka Spruce. These are very durable materials, so I'm confident in the instrument's longevity.
The Mother-of-Pearl Pattern completes the image with Multi-Stripe Rosetta and Tortoise Pickguard, and you'll find a padded gig bag made of water-repellent material in the kit. This way, you can take it with you on the road without fear of weather conditions.
Concluding the description of the case, it is worth mentioning the electronics, which controls are conveniently located in the hole and outputs to connect the amplifier on the bottom of the sidewall. More about this I will tell in the following section.
Neck, fingerboard, headstock
The GPC-X2E's Performing Artist neck is attached to the body using the Mortise & Tenon Neck Joint. This method is used in many Martin models and has proven to be very good. The guitar stands up to powerful string strikes, creating a feeling of robust construction. I felt a distinct improvement in sonic response compared to many analogs. Great playability; the slide on the fingerboard is smooth, fluent, and fast.
The fretboard is made of Selected Hardwoods, as the manufacturer says, and pearloid dot inlay on the frets. The scale is 25.4" long with 20 fret pads. And the fingerboard is 1 3/4'' wide (zero fret) and 2 1/8'' wide (12th fret). I didn't have to turn my fingers out to play, so I think the neck will be comfortable for players with small hands and thin fingers.
The pegs here are chrome plated and of the closed type. The tuning was easy to manipulate and perfectly held during a power play.
Sound quality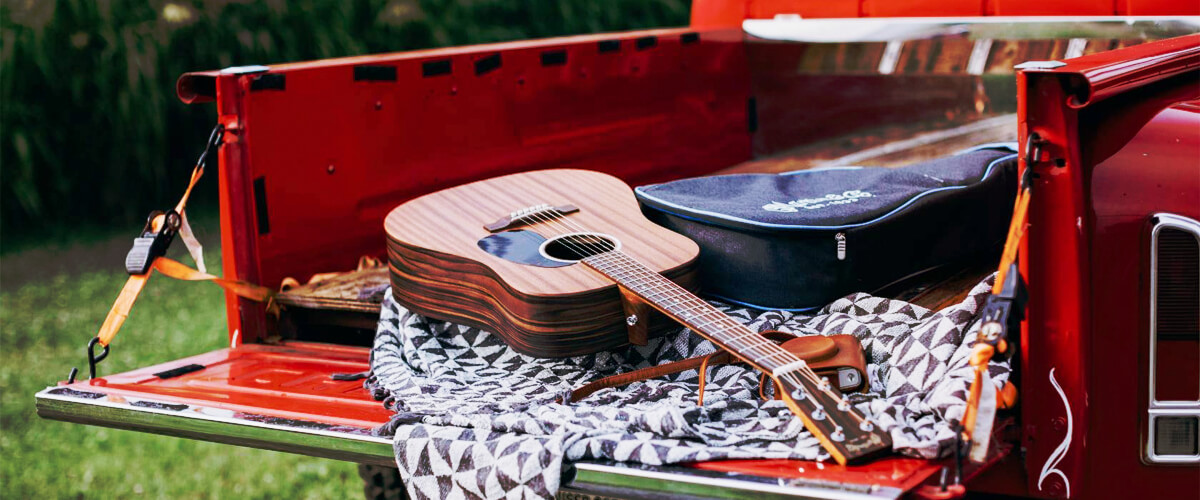 When I pick up an instrument, I can already understand if I want to play it repeatedly. And in this case, the answer is yes, I do! In addition to exceptional comfort, the Martin GPC-X2E provides a spacious, natural, and powerful sound. I've played with my fingers and given the guitar a chance to prove itself on hard playing. I can safely conclude that this model is versatile, so whether you want to play rock, country, jazz, or other styles.
As I mentioned, the guitar is equipped with a Fishman MX piezo pickup and an active Fishman MX timbrel. It's one of Fishman's simplest systems, but it turned out to be warm and voluminous when played, which surprised me pleasantly.
Key specs
Scale, in/cm: 25.4/64.5.
Frets: 20.
Fretboard radius, in/cm: 21/53.3.
Type: acoustic/electric.
Body material: spruce.
Neck material: select hardwood.
Neck joint: glued-in.
This is another mid-size guitar on my list that excels at Corridos. And that's the Martin GPC-X2E. Again, the Grand Performance shape and standard 25.4″ scale length will be comfortable to play without weighing down the instrument in your hands. Its sound is strikingly versatile, moderately powerful, clear, and bright, and it will suit many styles, including Corridos.
FAQ
What guitar string is best for corridos?
To perform Corridos style guitars that are reduced in size (for example, ¾ of full) will be ideal because the sound should not be voluminous but sonorous, with very clear treble. It is also better to choose guitars with a standard or shortened Scale Length and Low Action because you do not have to overstretch during the performance of melodies, wasting energy on the string or its pressure.
How to tune a guitar for corridos?
Corridos style is played in the E key, and if your guitar isn't tuned that way initially, you'll have to try harder. You can use a capo, for example. But today's world is full of the right content, so use the appropriate videos or install a special application.
What are the basic Mexican guitar chords?
The basis of Mexican (or Spanish) music is a set of four chords: E, Am, G, and F, in a barre chord configuration. To do this (using the E chord as an example), place the chord without using your index finger, and move the chord one fret away. Then, on each fret, clamp each string on the first fret. So you turn E into F, Em into Fm, and so on.
Who made corridos popular?
The musical style of Corridos originated and became popular in Mexico in the 19th century. And after the Mexican Revolution, it expanded the shores of its influence. Today, while preserving its ancient traditions, it nevertheless modifies and influences other styles of music (as they all do).
For example, the genres of Nortinho and Rancher are firmly associated with Corridos. Likewise, people argue that Bob Dilaoa's song "Hurricane" is a true Corridos, which is not surprising because in America in the '60s and '70s, styles of different nations were especially popular. In addition, some modern styles borrowed the manner of performance from Corridos to convey the narrative. All in all, this style is not unique today because echoes of it can be found anywhere. And of course, many performers and bands glorify the genre, but it is generally accepted that Los Tigres del Norte is the most famous of those who have played a role in the growth of Corridos' popularity.