The Ibanez brand is less widely known among aspiring musicians than other, more popular brands. Founded in 1908, the company gained popularity only in the 80s, starting to produce copies of famous brands and finally releasing their original, unlike anyone else's, high-quality instruments. In this article, I will tell you about the three best Ibanez acoustic guitars, which will serve you well if you choose them for yourself.
Our pick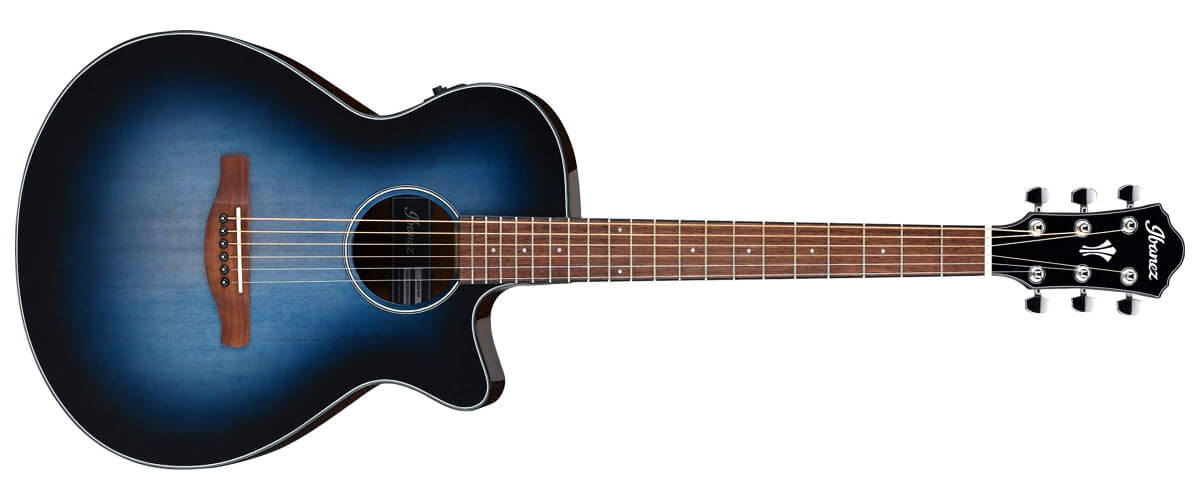 Ibanez AEG50
Best Ibanez acoustic guitar
The small and straightforward preamp has two control knobs, volume, and shape. It allows adjusting the tone quickly from low, fat, and powerful tones to a bright and crisp sound while adjusting only one knob. In addition, the onboard tuner with LCD is on the preamp.
Read the full review
.
Ibanez acoustic guitars comparison table
Guitar
Scale, in/cm
Fretboard radius, in/cm
Neck joint
Detailed review
Ibanez AEG50

best overall

25/63.4
15/38.1
glued-in
Review
Ibanez AW54OPN

for beginners

25.6/65
15.7/39.8
glued-in
Review
Ibanez AE325
25.5/65
16/40.6
glued-in
Review
Are Ibanez acoustic guitars good?
The short answer to the question – yes, Ibanez acoustic guitars are pretty good.
Today, Ibanez guitars are popular and sold around the world. Acoustic models, as well as electric ones, have earned their reputation, and the main proof of this is the list of celebrities who play instruments of this brand.
Having begun its journey in the last century, the company still maintains a combination of quality, innovation, a wide variety of models from entry-level to premium, and an adequate pricing policy. Therefore, almost any musician can find something suitable in all aspects. After all, in addition to the above, these guitars offer a wide range of sounds for very different genres.
Besides this, Ibanez instruments are famous for the incredible comfort of playing and tuning. All the details are designed so that you spend your time just playing, getting the most enjoyment out of it.
Best Ibanez acoustic guitar reviews
In this Ibanez AEG50 review, I will tell you about an inexpensive but very nice model, which is sure to find someone who will appreciate it. Ibanez has a series of AEG guitars that are pretty popular among connoisseurs because of their compactness, ease of playability, and thin neck. To find out what makes this model good, besides looks and price, we'll have to take a closer look at it. Let's go!
Body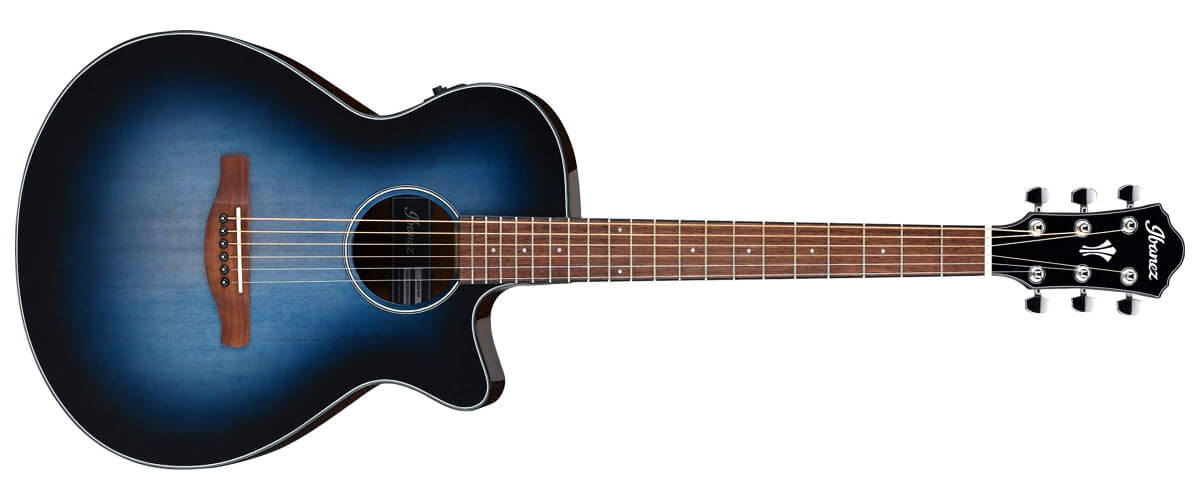 First of all, it's worth noting the color scheme of the AEG cutout model, which comes in Indigo Blue Burst High Gloss, Dark Honey Burst High Gloss, and Black High Gloss, each looking cool. The depth of the body is reduced, making the guitar light and very comfortable to play. Spruce top, Okoume back & Okoume sides provide a rounded, warm tone sound. Thanks to the slim body with reduced depth, the guitar doesn't buzz and sounds clean with or without electronics. The AEG50 itself is a lightweight, comfortable model that you can safely take with you on trips, for example. You can play it while standing or sitting without expecting to get tired from the weight.
Neck, fingerboard, headstock
The slim AEG Nyatoh neck feels great in your hand and provides rich mids and bass. It's also quite sturdy and stable, allowing you to play a variety of styles of music. All 20 frets are easily accessible, no matter if you have long or short fingers. The fingerboard is made of Laurel (as is the bridge, by the way) and inlaid with White dots. Chrome Die-cast tuners are sturdy and reliable, quite easy to handle. But you should pay particular attention to the Ibanez Advantage bridge pins, which are much easier to install because of the special bulb-shaped end. They don't push in too much when doing so.
Pickup system
As for the electronics, they are very good for a guitar in this price range, as, indeed, all of this company's guitars have. Ibanez T-bar II Undersaddle equalizes the volume of each string, so the balanced signal is fed to the Ibanez AEQ-TTS preamp. The preamp itself is small and simple but does its job well. You can play aggressive tunes on these electronics, changing the timbre from low to pure acoustic with Volume and Shape controls. To top it off, the built-in Onboard tuner with LCD keeps the tone perfectly. A 1/4" output jack is used here.
Sound quality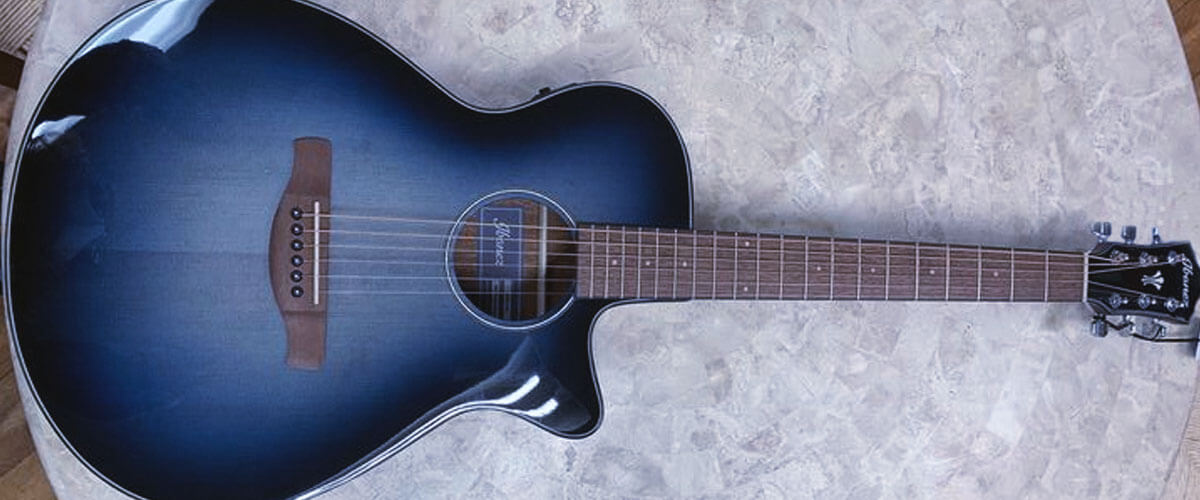 So, the Ibanez AEG50 Acoustic-Electric Guitar is really good in its price range. It looks stylish, sounds easy, is comfortable to play with, and with good handling, it will last a long time. I didn't hear any outright wheezing. The electronics do their job, providing clean sound extraction and stable tonality. The acoustic sound is not too voluminous and loud but will cope in a small room or by the fire.
Key specs
Scale, in/cm: 25/63.4.
Frets: 20.
Fretboard radius, in/cm: 15/38.1.
Type: acoustic/electric.
Body material: spruce.
Neck material: nyatoh.
Neck joint: glued-in.
The Ibanez AEG50 is the best Ibanez acoustic electric guitar for me, based on the combination of all parameters. It looks nice, sounds easy, is comfortable to play, and, if handled well, will last a long time.
Ibanez AW54OPN – for beginners
In this Ibanez AW54OPN review, I will tell you about my impressions of this instrument, its quality, and its luxury for ridiculous money. Yes, it seems that the famous Japanese brand did not realize that it created a beautiful thing, and now it is available to almost everyone. And also, we will go through Ibanez AW54OPN specs, and you will make your own opinion. I do not doubt that our impressions will coincide, but that's enough for introductions! Let's go.
Body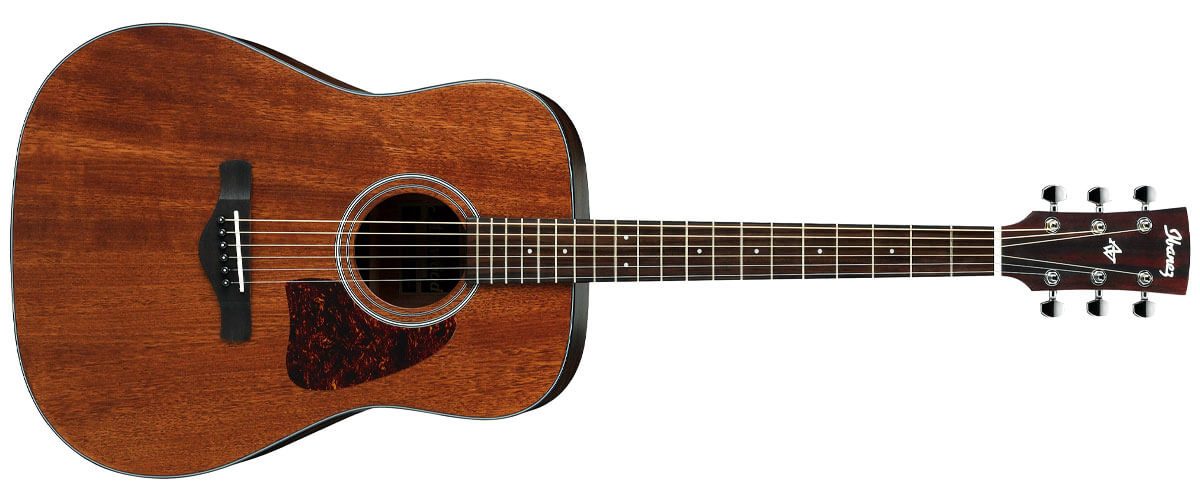 The abbreviation in the name AW indicates that the Dreadnought-shaped guitar belongs to the Artwood series. But you can see it with the naked eye - the instrument looks amazing. The other letters OPN stand for Open Pore Natural - the guitar's Solid Okoume finish. The back and sides are also made of Okoume, but laminated, which is not strange for this price. And it's a great feeling when you take it in your hands. You can tell from the name alone that the instrument promises a decent, warm, natural sound quality. You'll appreciate the combination of old traditional and new modern elements if you understand sound.
Neck, fingerboard, headstock
The AW/Nyatoh neck fingerboard is very thin, with a radius of 15.75 inches, so it is unusually comfortable and easy to play. The 20-fret Laurel inlays and white dot inlays contribute to a harmonious sound and are very sensitive. You can easily control the sound without the fear of losing one or the other note. The satin finish adds to the smoothness of the playing. The instrument is tuned, and you can play it right out of the box. But when you need a tune-up, the durable Chrome Die-cast tuners (18:1 gear ratio) will help you do just that. All parts are held securely in place while being easily removed and reinstalled.
Sound quality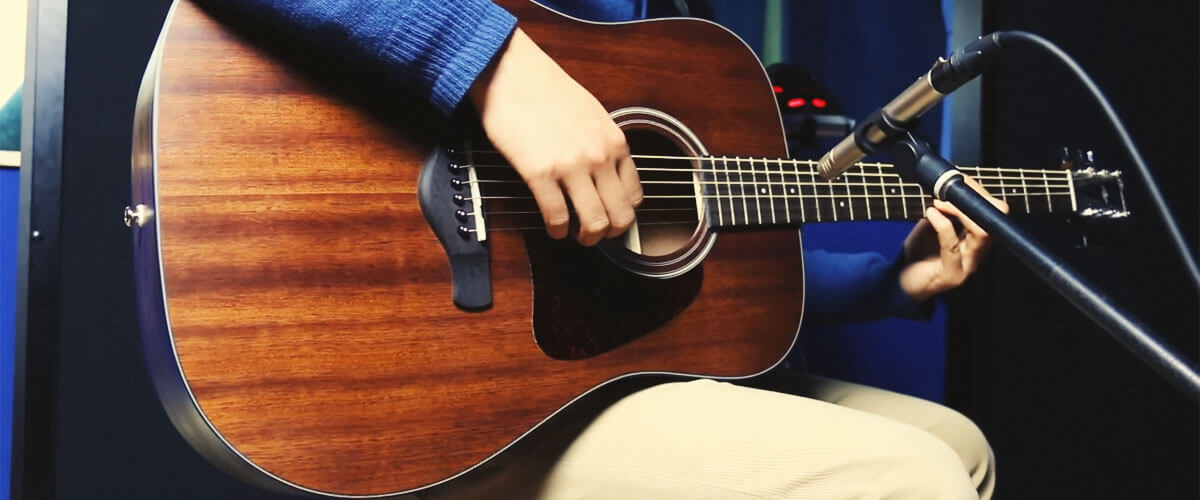 I'm sure that the construction, body, fingerboard materials, and finish give the guitar a warm, resonant sound that won't leave you indifferent. It's quite loud, the open pores project the sound very well, and the notes are crisp and soft. Its size and shape are so nice to the hands, and it's really comfortable, which is hard to find among Dreadnought guitars. Whether it's your first guitar or not, this instrument deserves consideration, especially considering its unreasonably low price.
Key specs
Scale, in/cm: 25.6/65.
Frets: 20.
Fretboard radius, in/cm: 15.7/39.8.
Type: acoustic.
Body material: okoume.
Neck material: nyatoh.
Neck joint: glued-in.
The Ibanez AW54OPN is the best Ibanez acoustic guitar for beginners. It is pretty loud; thanks to the open pores, the sound is projected very well, and the notes are clear and soft. In addition, its size and shape are nice and comfortable, which is rare among Dreadnought guitars. Whether it's your first guitar or not, this instrument deserves attention, especially considering its unreasonably low price.
Ibanez AE325
I offer my Ibanez AE325 review for connoisseurs of modern classics, combining the elements of traditional luthiery and modern design. It is a great value-for-money acoustic-electric guitar from the AE series, offering a classic look and pleasant sound. The instrument was released in China in 2020, and in 2021 its body was slightly enlarged. This model is capable of winning many hearts. Let's take a closer look at the Ibanez AE325 specs!
Body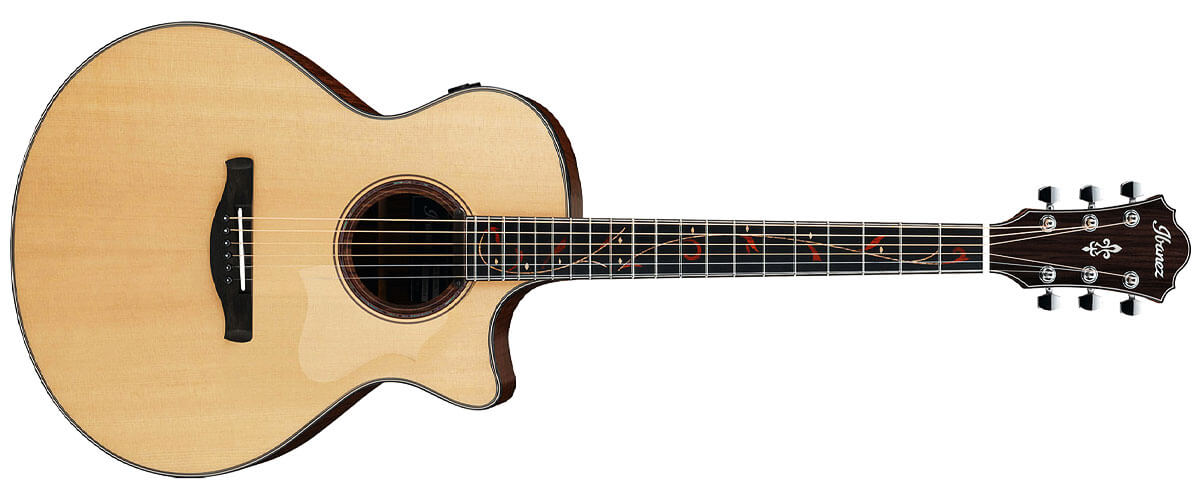 So, let's start with the Venetian resonator-shaped guitar body with a Solid Sitka Spruce top in Natural Low Gloss color, which gives the instrument a warm sound. The shape is worth paying attention to, as it was designed for projection, balance, and comfort, thanks to the narrow waist and neckline. The balanced sound and stability are also helped by the unconventional, years-proven Ibanez X-M Bracing system. You'll feel the benefits of the vibrations as soon as you start playing. The sides and back are made of Flamed Okoume with a glossy finish. As a result, the guitar feels really good in your hands. The satin polyurethane finish makes the wood grain of the AE325 stand out in the stage light and also protects the surface from minor damage.
Neck, fingerboard, headstock
The 5-piece Comfort Grip fingerboard with rounded edges and Ebony and Pau Ferro overlays is dovetailed to the body. It is sturdy and comfortable in hand, allowing you to perform complex dynamic compositions effortlessly. The Macassar Ebony fingerboard has 20 frets, and the Specially designed Wooden Vine inlay and Luminlay side dots look impressive and will be remembered by the audience. Rounding out the components include a compensated Macassar Ebony scalloped bridge saddle with Ibanez Advantage stakes, a bone nut, and chrome molded tuning knobs. The tuners 18:1 are soft, easy to tune, and hold the tone well.
Pickup system
The guitar's electronics are very good quality and hybrid (two-way). The Magnetic Ibanez AP11 pickup is small, lightweight, mounted on the fingerboard, connected to an Ibanez Custom Electronics preamp, and captures the sound clearly at any frequency, giving the guitar a natural clean sound. Handles chorus and reverb perfectly. The sound is also sent to the T-bar pickup, which has a separate control. That means this system will allow you to play any genre of music. There are Dual Outputs (Mono Out / Stereo Out), so you can use two pickups, or just one, according to your taste. What also distinguishes this model from others in its class is the natural bone nut and the compensated bone saddle, which affect the frequency balance and stability.
Sound quality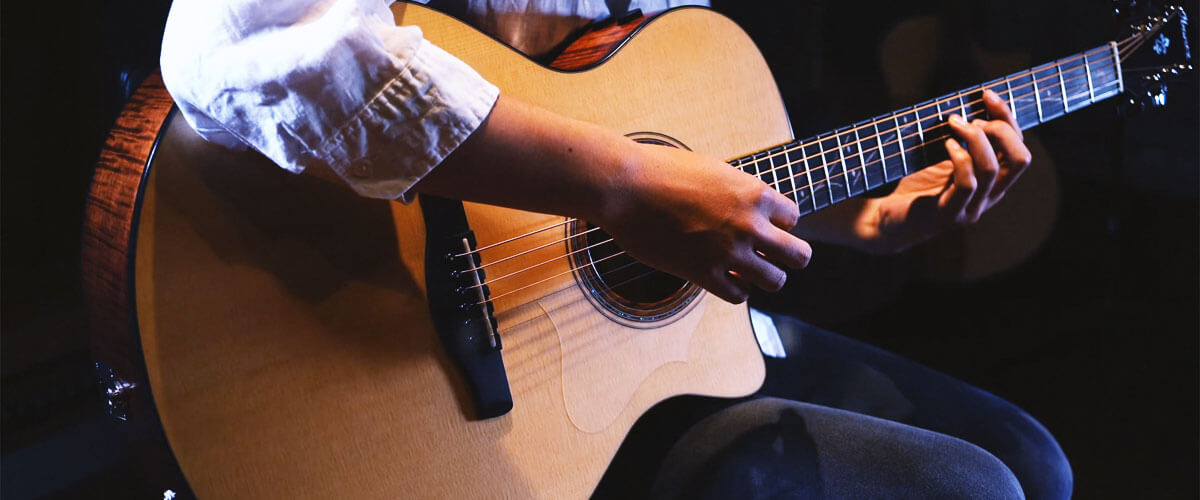 In fact, I've already explained above what factors affect the sound of the Ibanez AE325, and I assure you it sounds great. You can really play all genres, from blues to rock. The bass is clean, the treble and midrange sound clear, and the sound is spacious and quite loud. I even tried a combo on it, and it worked! This model will not disappoint you. Of course, there are more expensive versions, but in its category, the instrument can surprise even the experienced musician.
Key specs
Scale, in/cm: 25.5/65.
Frets: 20.
Fretboard radius, in/cm: 16/40.6.
Type: acoustic/electric.
Body material: ebony.
Neck material: mahoganyy.
Neck joint: glued-in.
The Ibanez AE325 combines the finest elements of traditional lute and modern design. You can play all genres, from blues to rock. The bass is clear, the treble and the midrange are clear, and the sound is voluminous and quite loud. Of course, there are more expensive versions, but in its category, the instrument can surprise even a sophisticated musician.
FAQ
What is the most important guitar slang?
In any professional world, there is a "special language." The world of guitars is no exception, which means it's worth getting to know the slang for guitars, perhaps even before you learn to play. After all, your hobby will sooner or later lead you into a circle of people where all these concepts are commonplace. You can learn more about it
here
.
What famous musicians play Ibanez guitars?
The once humble Japanese brand is now a manufacturer of guitars used by the most famous players worldwide. These guitars are suitable for all genres of Rock, Jazz, and Heavy Metal – so the celebrities belong to different elements of musical styles.
Perhaps Kiko Loureiro of Angra and Megadeth are among the brightest musicians. He uses an Ibanez Kiko100 from his signature line of guitars. Phil Lynott of Thin Lizzy used an Ibanez Roadster RS900 bass guitar. Paul Gilbert uses an Ibanez FRM300, one of the few Ibanez varieties without a whammy. Jennifer Batten has an Ibanez Roadster custom guitar. It was on Michael Jackson's iconic Bad tour, and Slash even played it.
Ibanez guitars are also played by Daron Malakian – lead guitarist of the band System of a Down, Steve Vai, Joe Satriani, Neely Brosh, Nita Strauss, and many more.
How much should a beginner spend on an acoustic guitar?
I recommend that beginners not spend a lot of money on their first guitar. But don't count on a cheap guitar to make you happy in the beginning. Remember that the most important thing is comfort. Sound and build quality are also of great importance, so you should pay attention when choosing a guitar to such parameters as integrity or build quality, wood quality, weight and size, comfortable fingerboard (preferably straight and narrow), and, of course, quality hardware. Only with time you will understand what kind of guitar you need, decide on the size and your favorite genre, so leave the purchase of an expensive model for later. Let's say, set yourself a budget from $150 to $600, depending on your options. Trust me, there are plenty of great models in that price range.
You may consider other decent acoustic guitars:
Epiphone acoustic guitar reviews