Gibson has a reputation as a legend among manufacturers of musical instruments and has been on the market for over a century. Founded in the 1900s by Orville Gibson as a mandarin maker, the brand still produces some of the most popular guitar models, many of which have already become icons in the music world. The most famous guitarists have played them and are playing them now. Today, I bring you three of the best Gibson acoustic guitars, and I'll tell you a little about the company itself and answer some additional questions.
Our pick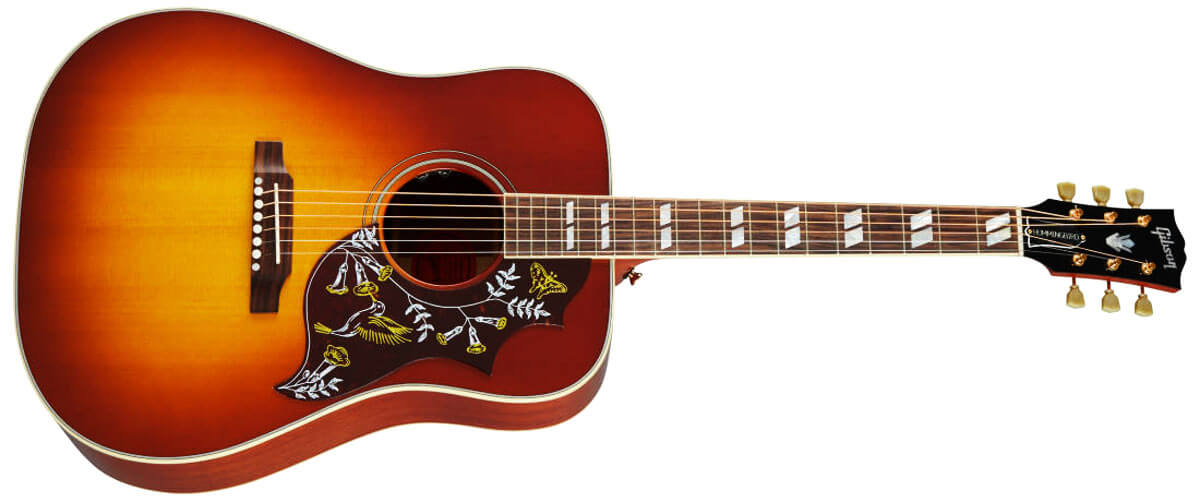 Gibson Hummingbird Original
Best Gibson acoustic guitar
The new Hummingbird Original blends vintage appointments and today's modern, high-quality build construction. Outfitted with gold Gotoh Keystone tuners, double antiqued binding, a traditional Hummingbird truss rod cover, and a bone nut and saddle.
Read the full review
.
Ibanez acoustic guitars comparison table
Guitar
Scale, in/cm
Fretboard radius, in/cm
Neck joint
Detailed review
Gibson Hummingbird Original

best overall

24.7/62.8
12/30.4
glued-in
Review
Gibson G-200
25.5/65
16/40.6
glued-in
Review
Gibson J-45 Standard
24.7/62.8
12/30.4
glued-in
Review
Do Gibson acoustics hold their value?
The cost of a guitar depends on many factors. Of course, you should always start with the build quality: what materials are used in the production, how long it serves you, and so on. The second important aspect is the sound quality. In the case of Gibson acoustic guitars, both of these factors are non-negotiable. The brand has long earned its popularity precisely for how well they are made. For years, these instruments have served musicians and are the ultimate dream for those who have not managed to purchase one yet. They are unusual and unique, and their sound is recognizable.
The collectors or limited edition versions are the most expensive. Mass-produced guitars are not as expensive, but because of Gibson's reputation, they still have premium status. Owning a Gibson guitar is considered prestigious because who doesn't want to be in the same row as Sheryl Crow, Lenny Kravitz, Kate Richards (Rolling Stones), and Chris Cornell (Soundgarden)? So yes, the quality and prominence allow Gibson to hold its value.
Best Gibson Acoustic guitar reviews
Gibson Hummingbird Original – best overall
Anyone familiar with the world of guitars has heard of Gibson and its great instruments. Reliability, comfort, style - that's what you understand immediately when you hear about this brand. Today I will share the Gibson Hummingbird Original review, which combines vintage classic style with modern construction. Yes, it's expensive but worth every penny, and it proves Gibson Hummingbird's popularity with great musicians past and present over the years. Well, let's get started.
Body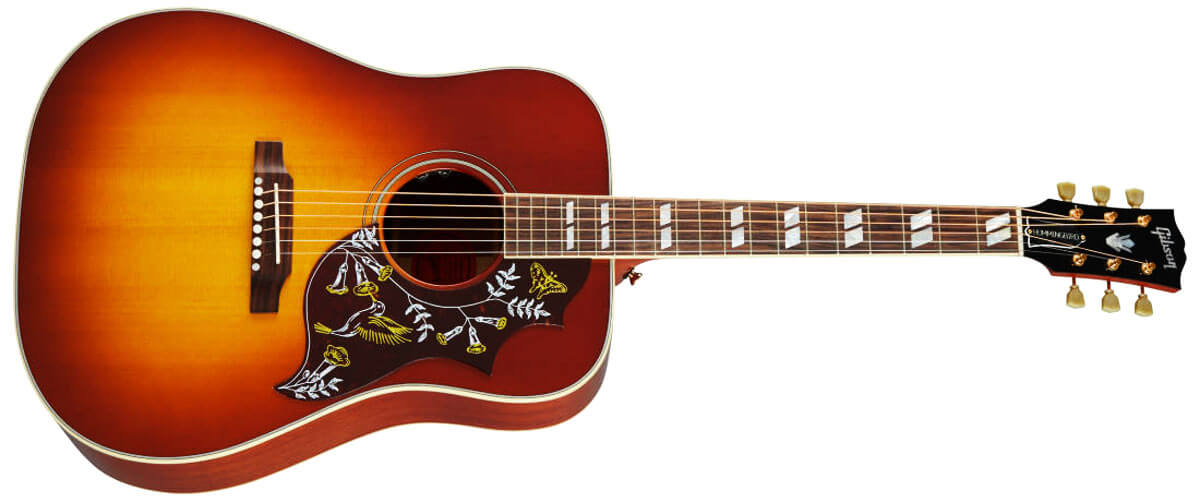 The Gibson Acoustic Hummingbird is shaped like a classic 16" wide all-wood Dreadnought with Square Shoulders. This beauty is topped by the famous Hummingbird Pickguard and is always recognizable everywhere. It is made with great woods, such as Sitka Spruce for the top and premium solid Mahogany for the sides and back. The Gloss Nitrocellulose Lacquer body finish will keep your guitar in place and is available in two luxurious colors: Heritage Cherry Sunburst and Antique Natural. In addition to the high-quality wood that gives the Gibson Hummingbird a great natural expressive sound, the volume and stability are also helped by Traditional hand scalloped X-bracing inside the body. Let's move on!
Neck, fingerboard, headstock
The 12-inch radius Rounded Mahogany neck is strong, reliable, and attached to the body with a Compound Dovetail system. The Rosewood fingerboard has 20 standard fret edges, is inlaid with Mother-of-pearl Parallelograms, and has a Scale Length of 24.75 in. A pure classic in all its luxury is comfortable to play and creates a recognizable powerful, yet mellow sound. The picture is complete with a sturdy, easy-to-handle bone saddle, a traditional belly-up bridge, and elegant gold Gotoh Keystone Tuning Machines with Tusq Bridge Pins.
Pickup system
Like other materials, Hummingbird Original electronics are popular and of high quality. And that's the L.R. Baggs Element VTC. The great natural amplified sound is provided by a low-profile, high-sensitivity under-saddle pickup that is stable and durable. No need to worry about it failing; experiment with different styles boldly and easily. Volume and Tone controls are mounted inside the sound hole, with no unnecessary parts interfering with your playing. The result is a guitar that sounds natural, and the acoustic sound is detailed and dynamic with a delicate high end. This guitar is built for performance on stage, and nothing should cloud the enjoyment of playing, distract or get in the way. Everything works just like clockwork.
Sound quality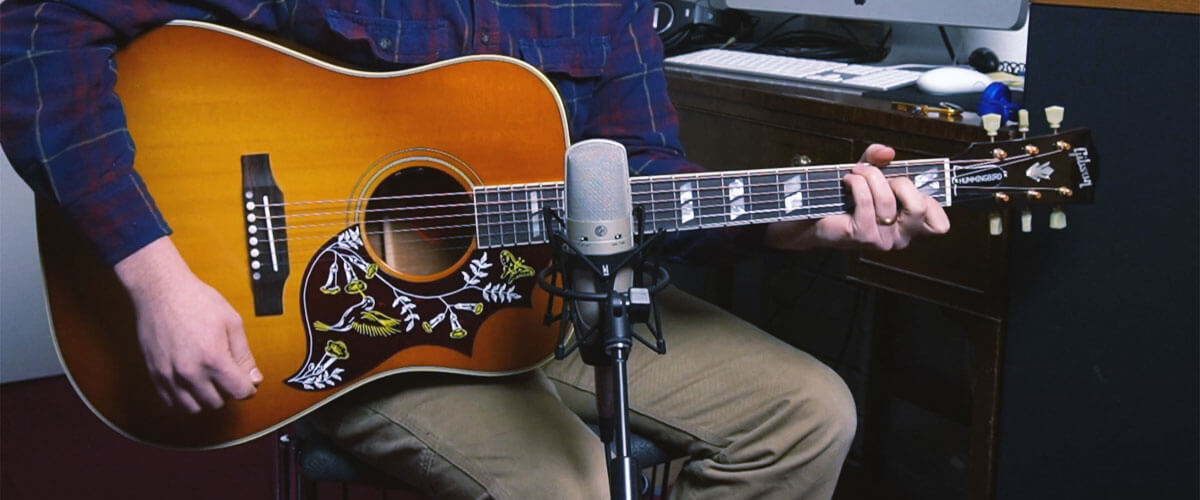 The Gibson Hummingbird Acoustic-Electric Guitar is the queen of guitars, keeping the tradition of 60s classics alive. It Comes factory tuned with Plek machine tuning and is ready to play right out of the box. You won't hear any buzzing of the frets. The guitar is one of the leaders in the world for its sound quality. Bright midrange, clear treble, and bass with a balanced timbre. You can't help but trust the opinion of celebrities when they choose the Gibson Hummingbird Original.
Key specs
Scale, in/cm: 24.7/62.8.
Frets: 20.
Fretboard radius, in/cm: 12/30.4.
Type: acoustic.
Body material: mahogany.
Neck material: rosewood.
Neck joint: glued-in.
The best-sounding Gibson acoustic guitar is the Gibson Hummingbird Original, the Queen of Guitars. It combines the vintage 60s classic style with modern construction. Comes with a factory Plek machine tune and is ready to play right out of the box. Bright midrange, clear treble, and bass with a balanced timbre – you'll always easily recognize it from the stage.
Gibson G-200
Gibson has long earned its place among the leaders in guitar manufacturing. The brand has maintained its premium status over the years, keeping its long-standing classic tradition but keeping up with modernity. Today I have a Gibson G-200 review for you, a model from the Generation collection made in Bozeman, Massachusetts, and assembled by hands. Comfortable playing and terrific sound are what you expect and get from Gibson G-instruments. Are you ready? Then let's take a closer look at this beauty.
Body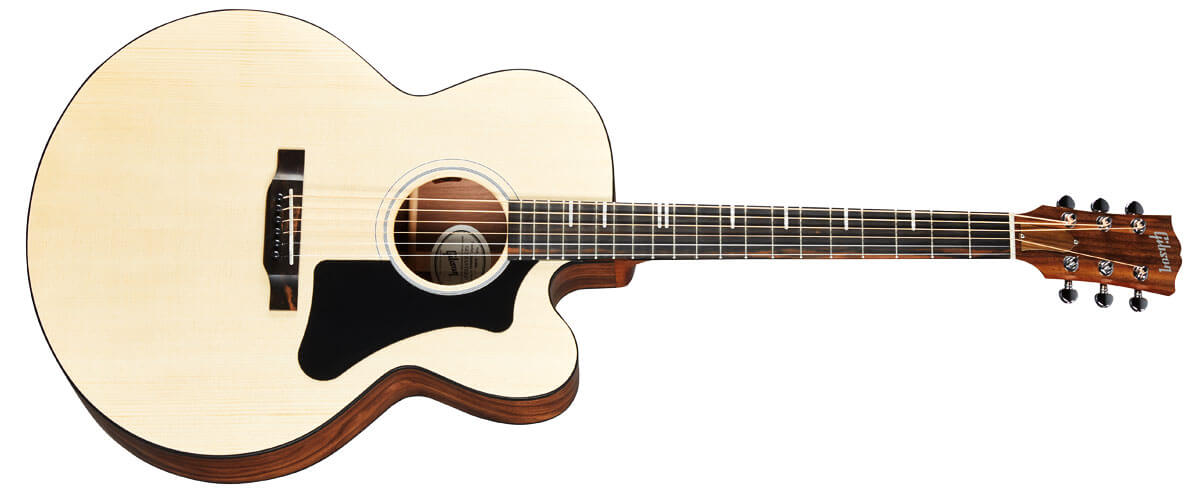 The G-200 has a Super Jumbo-style body in the shape of a J-200 with a classic cutaway. It is essentially a descendant of the original Gibson "King of the Flat Tops" model, with a slightly larger body than the standard Dreadnought. But the main difference is the Gibson Player Port, an original Gibson concept from the early 1960s, a body cutout in the top shoulder of the guitar that lets you hear your guitar as you play in all the resonating detail. It has impressive projection and surround sound even without electronics. You can perform any style of music- the guitar is sturdy and will stand up to a dynamic style.
The top is made of solid Sitka Spruce, and the sides and back are Walnut with a Satin Nitrocellulose Lacquer finish for durability. And it looks humble on the outside, reflecting the retro tradition magnificently, but a clear, crisp sound is assured. The depth of the cabinet is slightly reduced, which does not affect the sound, and there is Traditional Scalloped X-bracing inside.
Neck, fingerboard, headstock
Advanced Response neck is attached to the body with a Compound Dovetail system; Hot Hide Glue. The 16" radius Ebony Fingerboard with 20 standard frets is decorated with a "G collection" inlays with a 25.5 in scale length that is unusually comfortable, easy to play, and feels good in the hand. The Grover Mini Rotomatic picks are not anything out of the ordinary, but they are nice and easy to operate and can be easily replaced if desired. I can add Chrome TUSQ Nut and TUSQ Saddle, as well as Belly Down, Closed Slot, and Striped Ebony Bridge, which complete the quality elements of the instrument.
Pickup system
The G-200 features LR Baggs Element Bronze, and you'll definitely want to plug into it every time, for it delivers a rich, natural acoustic tone. The Under Saddle Pickup Element is neat but has a large surface contact area for maximum sound extraction. The Soundhole Mounted Volume controls and LR Baggs Element Bronze preamp are located in the pickup and are quick and easy to set up. Connection is made with a 1/4" Endpin Output Jack. Believe me, the playing experience is spectacular.
Sound quality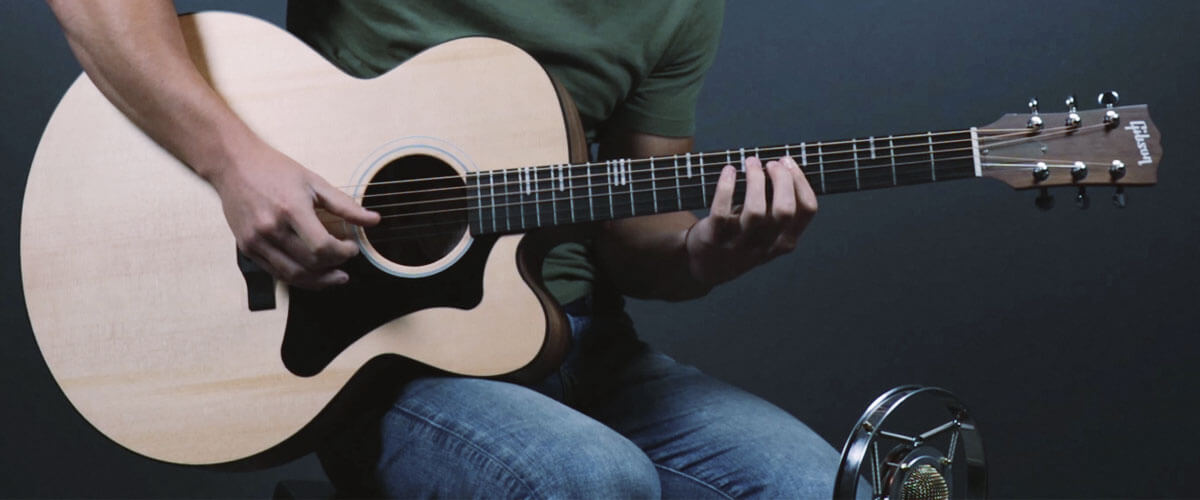 When I started playing the Gibson Acoustic G-200, I realized I got exactly what I expected. The clear, clean acoustic sounds spill out into the room in a powerful, balanced way, with just the proper resonance. I think it's perfect for fingerstyle, as you get every note as intended. I've noticed no humming, buzzing, or phonation. And while there is simply no guitar perfect for everyone, I would still put the G-200 as one of the most versatile and user-friendly tools I've met.
Key specs
Scale, in/cm: 25.5/64.7.
Frets: 20.
Fretboard radius, in/cm: 16/40.6.
Type: acoustic/electric.
Body material: walnut.
Neck material: ebony.
Neck joint: glued-in.
The Generation G-200 is assembled by hand. The clear, clean acoustic sounds spill out into the room in a powerful, balanced way, with just the right resonance. I think it's perfect for fingerstyle because you get every note exactly as intended. This good Gibson acoustic Super Jumbo style guitar is incredibly comfortable and is sure to please you.
Gibson J-45 Standard
This Gibson J-45 Standard review will introduce you to one of the most famous models, nicknamed the "Workhorse," and was introduced back in 1942. This classical acoustic guitar is capable of a lot, which is why it has earned respect among connoisseurs and is the top-selling of all Gibson guitars. In today's world, it sounds just as traditional, but yet in a modern electronic frame. So it's worth taking a closer look at it, don't you think?
Body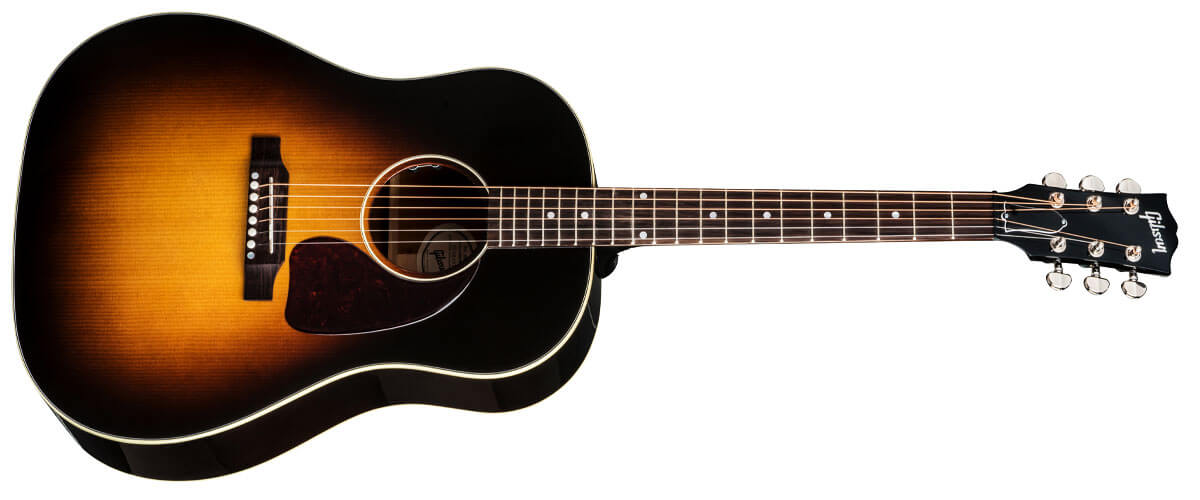 The Gibson J-45 of the Jambo line of round-shouldered Dreadnoughts is built with beautiful tonal woods that make it sound rich and powerful. The solid Sitka Spruce top is multi-layered, and the side and back are made of high-quality Mahogany that will last and promote hard playing if you like it. Balance and stability are guaranteed thanks to the traditional hand-scalloped X-bracing system. The body itself is very comfortable, with smooth lines, and thanks to the Gloss Nitrocellulose Lacquer coating is pleasant to the hand and durable.
Neck, fingerboard, headstock
The Slim Taper neck with Compound's Mahogany Dovetail mount has a 12 in radius and Scale Length of 24.75 in, making it more likely to be comfortable for small hands and fingers. It's just easier for them to maneuver over the frets. The fingerboard is made of Rosewood and has 20 standard frets and Mother-of-pearl Dots inlays. The use of such high-quality woods makes the fingerboard stable and durable, as well as affects the great ringing sound overall. In general, as always with Gibson, expensive popular guitars have roughly the same features that make them so. Grover Rotomatics w/kidney buttons tuners are no exception. They're reliable, soft, and easy to operate.
Pickup system
The Gibson Acoustic J-45 Standard has LR Baggs' VTC pickup system, which is quite popular among musicians. With its discreet interface, this Under Saddle Pickup does a great job and is attached inside the sound hole as a Preamp and Volume/Tone controls. The whole system provides a lively acoustic sound with excellent dynamics and timbre. As with other popular Gibson models, nothing interferes with your playing, either visually or actually. Standard and classic, in this case, are undeniable advantages for connoisseurs of elegance, restraint, and comfort.
Sound quality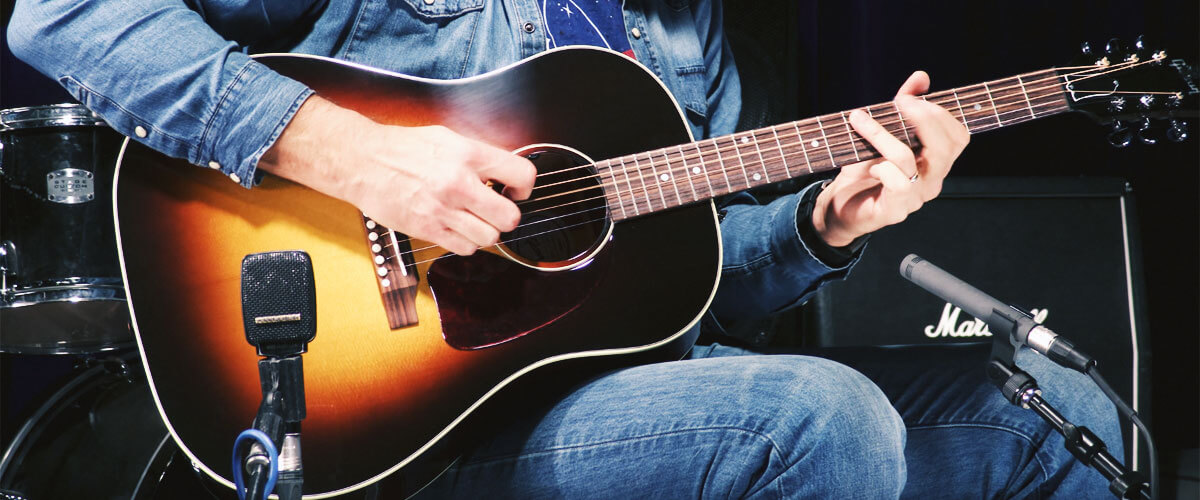 So, the Gibson Acoustic J-45 Standard is made to sound amazing. It really can do a lot, whether you play rock, pop, country, or blues, the range is wide and bright. The instrument emphasizes the treble; the midrange sounds balanced and thick, while the bass is warm and soft. You may not get the clearest acoustic conversion with electronics if you need it. In that case, you should use an external microphone - it solves all the issues. The guitar is expressive and definitely will not leave you indifferent.
Key specs
Scale, in/cm: 24.7/62.8.
Frets: 20.
Fretboard radius, in/cm: 12/30.4.
Type: acoustic.
Body material: mahogany.
Neck material: rosewood.
Neck joint: glued-in.
One of the most famous and marketable models of the Gibson J-45 Standard, nicknamed "Workhorse," was introduced in 1942. This classical guitar is capable of much, so it has earned respect among connoisseurs. In today's world, it sounds just as traditional, but already in a modern electronic frame, whether you play rock, pop, country, or blues, the range of its possibilities is wide and bright.
FAQ
How long do guitars last?
Sooner or later, you'll wonder how long a guitar lives. After all, every time you buy a new instrument, it's a considerable expense, and it all depends on how much value you place on such an investment. With proper care and good handling, the average lifespan of even an inexpensive guitar can be 20-30 years. Of course, depending on the type of guitar (electric, acoustic, or classical), different factors affect longevity. You can read about what you need to know, consider, and do to keep your instrument pleasing for as long as possible
here
.
Where are Gibson Acoustic guitars made?
All series and versions of Gibson guitars are made exclusively in the United States. The acoustic models, particularly in Bozeman, Montana. That is partly why they are so expensive, unlike other brands made in Chinese and Indonesian factories.
Is it worth it to buy a Gibson guitar?
Of course, if we talk about the quality of the instrument, Gibson is almost unrivaled: they have a unique quality and recognizable sound. But in the end, the result of playing depends not only on the guitar itself but also on the skill of the person who plays it. Yes, this brand's instrument will no doubt last you as long as you want it for years, decades, and your whole life. They are mega-popular, probably even iconic. The most famous artists play them. In addition, they retain their price, which means they can also be considered an investment.
So the answer to this question depends on your capabilities. I'm firmly against buying things you can't afford unless you've been saving for your dream for years. Think about what you expect from such a purchase.
Do Gibsons sound better than Epiphones?
Gibson is an indicator of prestige, reputation, status, and uniqueness. And, of course, the materials used to make these guitars are of the highest quality. But still, Epiphone is a budget branch of Gibson, which means it retains the tradition of build quality and sound, even using other components. And they cost a lot less!
I don't think there are musicians whose main selection criterion is the guitar's name. And I also don't think there is a perfect instrument for everyone. After all, then everybody would play guitars of the same brand, but that's not true. So you can only answer this question for yourself when you learn to figure out what's good for you.