Many people know Epiphone was originally a budget branch of Gibson and therefore keeps the best traditions in manufacturing instruments but uses simpler and cheaper materials. In this Epiphone DR-100 review, I will tell you that even an inexpensive guitar can be a splendid companion to a musician. A complete instrument of quality build, the Epiphone DR-100 acoustic guitar has features worthy of you. Interested? Let's go!
Body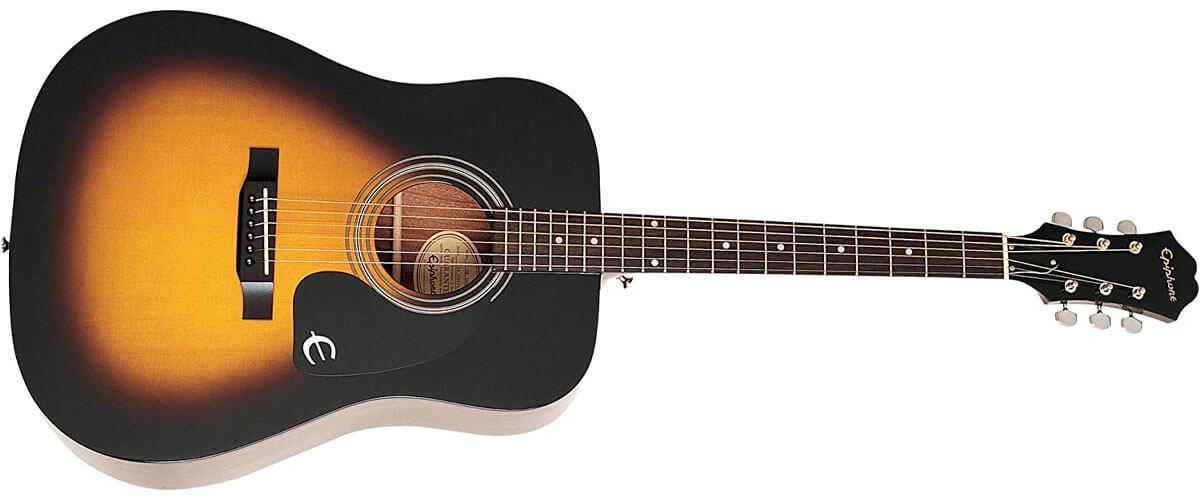 The classic Dreadnought shape with square shoulders always contributes to the voluminous, loud sound of the guitar. And let the top of the Epiphone DR-100 is not made of Solid Spruce, but of Laminated, so-called Selected Spruce with Gloss Nitrocellulose Lacquer coating, but the back and sides are made of Mahogany, so it sounds pretty good and stable, with pronounced mid-tones. Yes, maybe it lacks complex overtones, but the clarity of the sound can make up for it. This guitar is more for home, for the soul, than for the stage, but it can last you a long time, pleasing you day in and day out. Rounding out the cool design is the rosewood bridge and black fingerboard with the "E" logo.
Neck, fingerboard, headstock
The SlimTaper C-profile rosewood neck is glued to the body with a dovetail system for clarity and resonance and is quite sturdy in its own right. The guitar itself is not small at 8 pounds, and the scale is 25.5 inches long. So it probably won't be comfortable for kids. The fretboard is made of Okоumé (not Mahogany, as many people think, although their resonance properties are similar) and has 20 Medium Jumbo frets with dot inlays. This puts the fingerboard at your fingertips for almost any style of playing. The DR-100 head is a pre-1930s Gibson classic with nickel-plated hardware and "Epiphone premium" pickups. Basically, all the parts, including the tuners, are not of the highest quality, but they do exactly the job they are supposed to.
Sound quality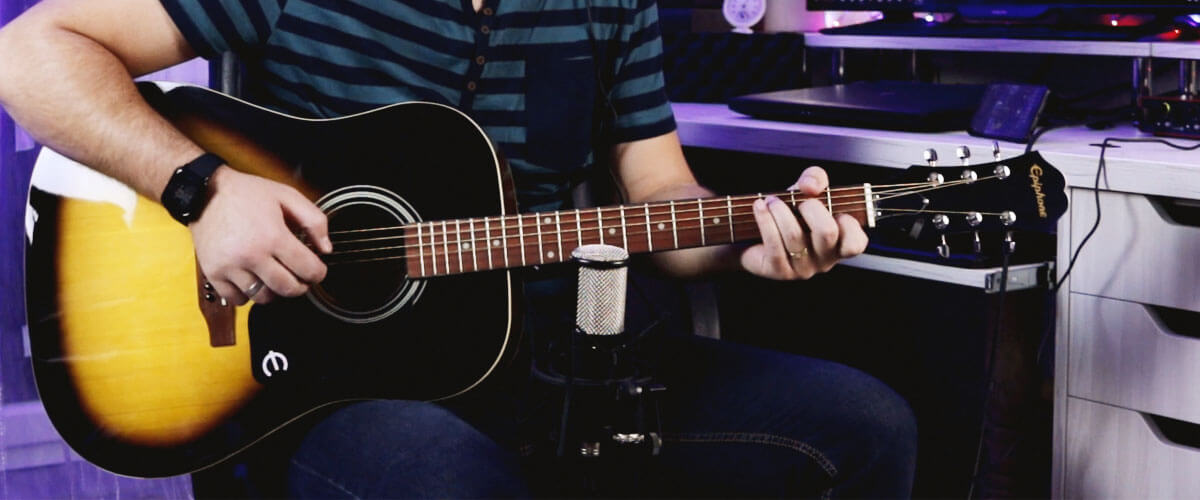 I conclude that the Epiphone DR-100 does very well for its segment. It holds notes for a long time and has a clean tone in a nice timbre. You may need to do some additional tuning, although initially, the guitar sounds very pleasant after unpacking. High frequencies, midrange – no outright audible flaws anywhere, but the low frequencies may be lacking. Use it carefully, take care of it, and it will repay you with mutual love.
Key specs
Scale, in/cm: 25.5/64.7.
Frets: 20.
Fretboard radius, in/cm: 12/30.4.
Type: acoustic.
Body material: mahogany.
Neck material: spruce.
Neck joint: glued-in.