In this Ibanez AEG50 review, I will tell you about an inexpensive but very nice model, which is sure to find someone who will appreciate it. Ibanez has a series of AEG guitars that are pretty popular among connoisseurs because of their compactness, ease of playability, and thin neck. To find out what makes this model good, besides looks and price, we'll have to take a closer look at it. Let's go!
Body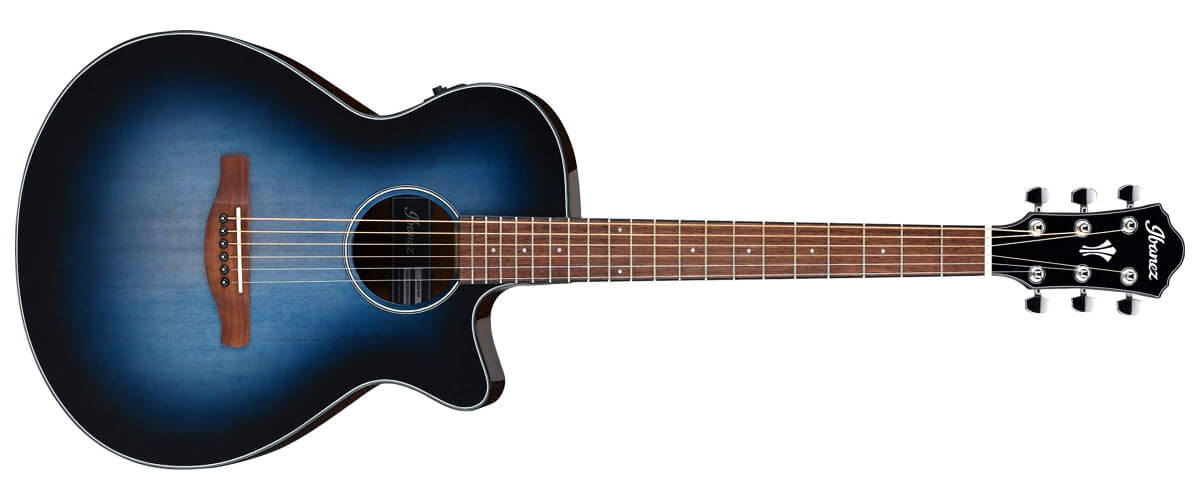 First of all, it's worth noting the color scheme of the AEG cutout model, which comes in Indigo Blue Burst High Gloss, Dark Honey Burst High Gloss, and Black High Gloss, each looking cool. The depth of the body is reduced, making the guitar light and very comfortable to play. Spruce top, Okoume back & Okoume sides provide a rounded, warm tone sound. Thanks to the slim body with reduced depth, the guitar doesn't buzz and sounds clean with or without electronics. The AEG50 itself is a lightweight, comfortable model that you can safely take with you on trips, for example. You can play it while standing or sitting without expecting to get tired from the weight.
Neck, fingerboard, headstock
The slim AEG Nyatoh neck feels great in your hand and provides rich mids and bass. It's also quite sturdy and stable, allowing you to play a variety of styles of music. All 20 frets are easily accessible, no matter if you have long or short fingers. The fingerboard is made of Laurel (as is the bridge, by the way) and inlaid with White dots. Chrome Die-cast tuners are sturdy and reliable, quite easy to handle. But you should pay particular attention to the Ibanez Advantage bridge pins, which are much easier to install because of the special bulb-shaped end. They don't push in too much when doing so.
Pickup system
As for the electronics, they are very good for a guitar in this price range, as, indeed, all of this company's guitars have. Ibanez T-bar II Undersaddle equalizes the volume of each string, so the balanced signal is fed to the Ibanez AEQ-TTS preamp. The preamp itself is small and simple but does its job well. You can play aggressive tunes on these electronics, changing the timbre from low to pure acoustic with Volume and Shape controls. To top it off, the built-in Onboard tuner with LCD keeps the tone perfectly. A 1/4″ output jack is used here.
Sound quality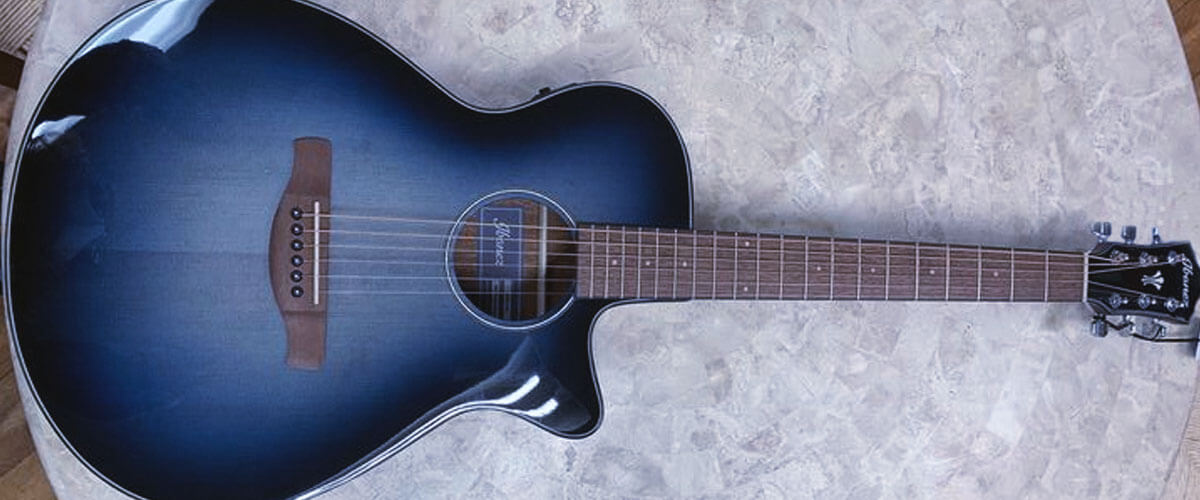 So, the Ibanez AEG50 Acoustic-Electric Guitar is really good in its price range. It looks stylish, sounds easy, is comfortable to play with, and with good handling, it will last a long time. I didn't hear any outright wheezing. The electronics do their job, providing clean sound extraction and stable tonality. The acoustic sound is not too voluminous and loud but will cope in a small room or by the fire.
Key specs
Scale, in/cm: 25/63.4.
Frets: 20.
Fretboard radius, in/cm: 15/38.1.
Type: acoustic/electric.
Body material: spruce.
Neck material: nyatoh.
Neck joint: glued-in.