I've prepared a Martin GPC-X2E review for you because many people can afford to buy this guitar, and the main thing is that it really deserves attention. This electric acoustic model has great data, a fair mid-affordable price, and looks just great.
Martin Guitars is known among connoisseurs for models of various ranks that have gained well-deserved popularity due to their quality construction and natural acoustic sound. So let's take a closer look at this model.
Body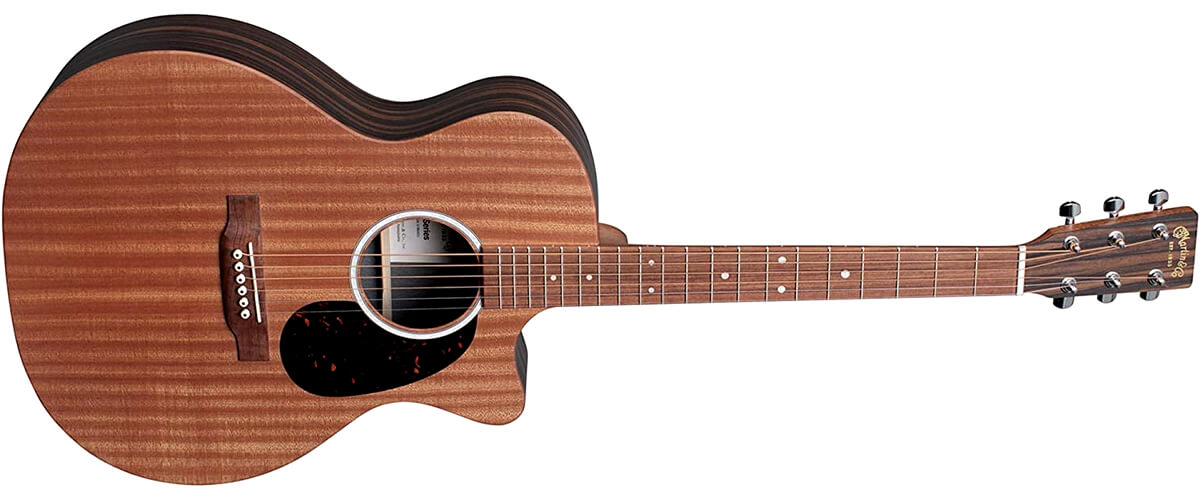 The mid-size Martin GPC-X2E looks incredibly stylish in Grand Performance size, and the three Rosewood, Mahogany, and Macassar options are available. I happened to have the Macassar in my hands, but they don't differ in any way other than the Hand-Rubbed color finish. The guitar has a cutaway, so there is access to the high registers whether you are playing sitting or standing. I was very comfortable with it due to its smooth rounded edges.
So, the top of this guitar is Sapele, and the back and sides are made of HPL (High-Pressure Laminate), just like the rest of the X-series guitars. But the internal scalloped X-brace system is made of Sitka Spruce. These are very durable materials, so I'm confident in the instrument's longevity.
The Mother-of-Pearl Pattern completes the image with Multi-Stripe Rosetta and Tortoise Pickguard, and you'll find a padded gig bag made of water-repellent material in the kit. This way, you can take it with you on the road without fear of weather conditions.
Concluding the description of the case, it is worth mentioning the electronics, which controls are conveniently located in the hole and outputs to connect the amplifier on the bottom of the sidewall. More about this I will tell in the following section.
Neck, fingerboard, headstock
The GPC-X2E's Performing Artist neck is attached to the body using the Mortise & Tenon Neck Joint. This method is used in many Martin models and has proven to be very good. The guitar stands up to powerful string strikes, creating a feeling of robust construction. I felt a distinct improvement in sonic response compared to many analogs. Great playability; the slide on the fingerboard is smooth, fluent, and fast.
The fretboard is made of Selected Hardwoods, as the manufacturer says, and pearloid dot inlay on the frets. The scale is 25.4″ long with 20 fret pads. And the fingerboard is 1 3/4" wide (zero fret) and 2 1/8" wide (12th fret). I didn't have to turn my fingers out to play, so I think the neck will be comfortable for players with small hands and thin fingers.
The pegs here are chrome plated and of the closed type. The tuning was easy to manipulate and perfectly held during a power play.
Sound quality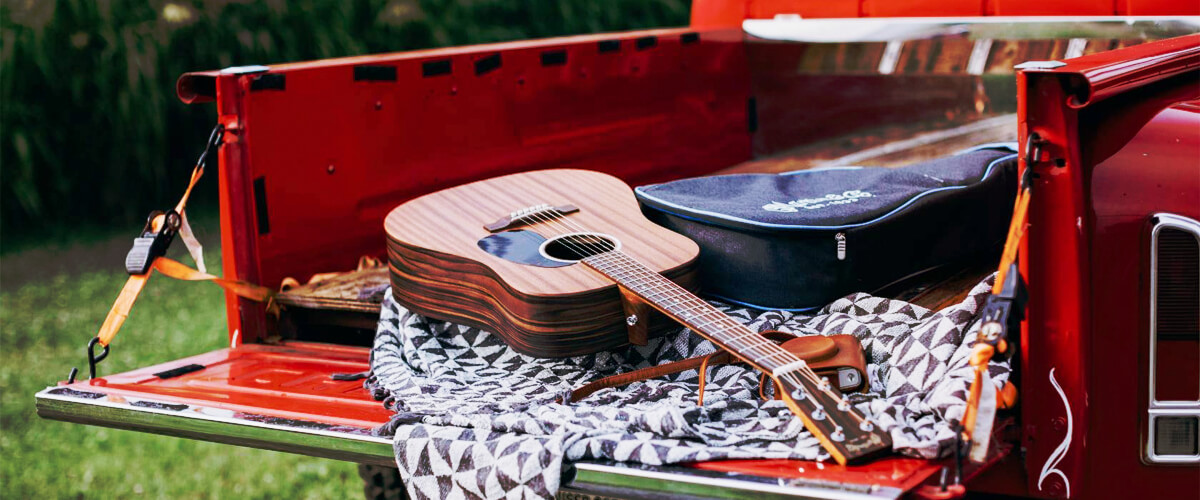 When I pick up an instrument, I can already understand if I want to play it repeatedly. And in this case, the answer is yes, I do! In addition to exceptional comfort, the Martin GPC-X2E provides a spacious, natural, and powerful sound. I've played with my fingers and given the guitar a chance to prove itself on hard playing. I can safely conclude that this model is versatile, so whether you want to play rock, country, jazz, or other styles.
As I mentioned, the guitar is equipped with a Fishman MX piezo pickup and an active Fishman MX timbrel. It's one of Fishman's simplest systems, but it turned out to be warm and voluminous when played, which surprised me pleasantly.
Key specs
Scale, in/cm: 25.4/64.5.
Frets: 20.
Fretboard radius, in/cm: 21/53.3.
Type: acoustic/electric.
Body material: spruce.
Neck material: select hardwood.
Neck joint: glued-in.