In my Taylor 214ce review, I'm going to tell you about a guitar that I have a lot of positive feelings about. I will praise it in the article, but I will try to build the review objectively so everyone can conclude. You can compare this model, perhaps, with another Taylor 114ce. They are similar in many ways, but some differences, in the end, make the instruments sound different, and that is what we will pay attention to. Well, it's time to get started!
Body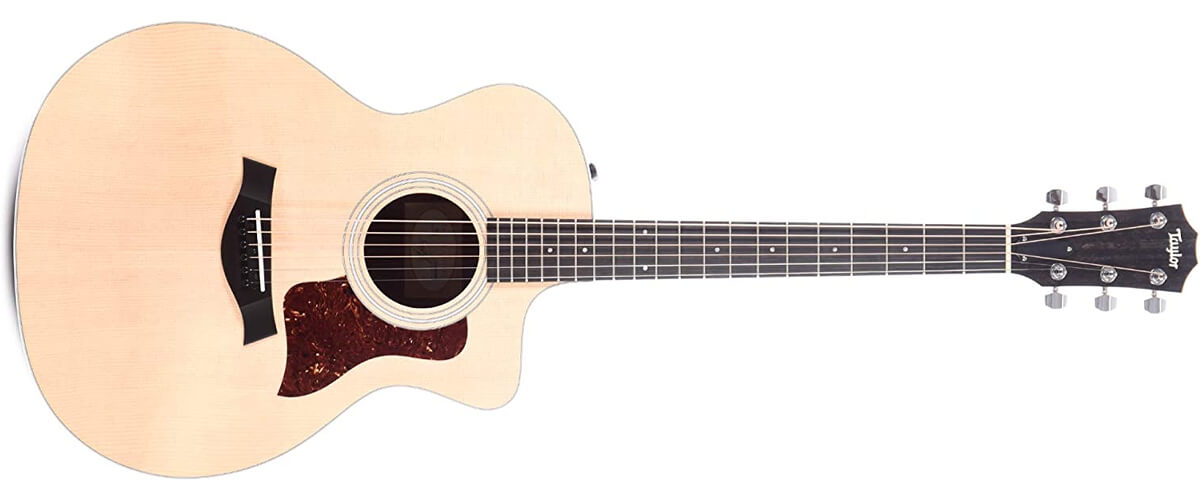 The shape of the Taylor 214ce resembles a Dreadnought, but it is actually a Grand Auditorium with a tapered waist. This shape and elegant Venetian cutaway provide incredible comfort and easy access to the high registers. The top is made of solid Sitka Spruce in a lovely light shade. And it is adorned with a plastic Rosetta consisting of three rings and a Tortoise Pickguard that gives the guitar an upscale look. And a white edge binding completes the design. All in all, I'm thrilled with the way it looks.
The material of the sidewall and back of the guitar is Layered Rosewood. And that's exactly what sets it apart from the 114ce model, which has those parts made of Laminated Sapele. And it's this substitution that makes the 214ce sound different. For example, it sounds brighter and has more pronounced treble and bass. In comparison, the 114ce wins in the mids. All in all, it just depends on your taste in tonality here.
In addition to all of the above, the kit comes with a soft gig bag for protection during transportation. A nice bonus. By the way, it is also very stylish: made in beige with Taylor embroidery and a comfortable handle for carrying.
Neck, fingerboard, headstock
This stunning maple fingerboard has a West African Ebony overlay and a scale length of 25-1/2″. It's so great because it's incredibly comfortable to hand. Speed playing that's what I love, so I always test the fingerboard first. And this one is very good. It's worth noting here that the guitar has 20 frets.
The NuBone nut is not optimal, but upgrading it won't cost much if you decide to do so. Its width is the standard 1 11/16″, and I enjoyed playing it.
As for the factory tuning of the guitar, there was none. So I had to tune it out of the box. That said, the procedure is simple, with the proprietary Taylor Die-Cast Chrome Tuners sealed tuning mechanism providing smooth action and high accuracy. But after that, it held the line just fine for a long time, although I was pretty hard on it.
Sound quality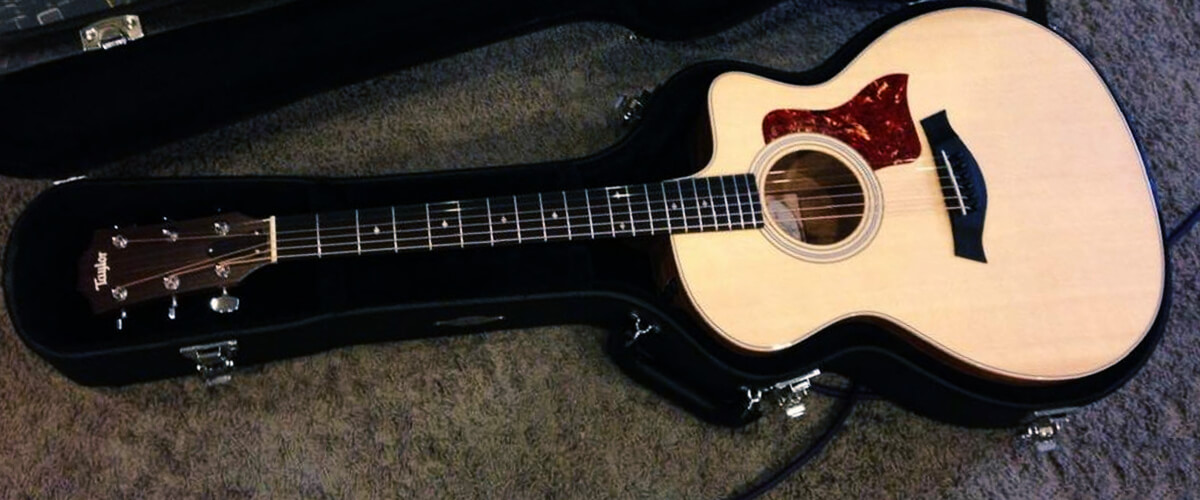 Well, we've got the design and playability figured out, so let me tell you how the Taylor 214ce guitar sounds. As I mentioned earlier, comparing this model to the 114ce, the guitar's overall tone is bright and voluminous, with good volume to fill a medium-sized room. Great treble and bass and a little bit of sagging in the mids. I don't classify this as a flaw but more of a taste. The guitar produces clean notes, and the resonance from the body is luxurious. I would say it has excellent responsiveness, so obedient it was in my hands. Combined with the excellent sustain, I would conclude that this is a guitar for sophisticated musicians.
To complete the overall picture, it should be said that the 214ce is equipped with Expressive System 2 electronics. For those who want to use an amplifier, I hasten to report that the guitar did not lose its original acoustic tone in the sound but continued to sound just as natural. These electronics are very good quality, so with all the components, I was not surprised by the instrument's price, and I think the guitar is worth every penny!
Key specs
Scale, in/cm: 25/63.5.
Frets: 20.
Fretboard radius, in/cm: 16/40.6.
Type: acoustic/electric.
Body material: rosewood.
Neck material: mahogany.
Neck joint: glued-in.