Taylor has long established itself in the acoustic guitar market as one of the most famous manufacturers of these musical instruments, so it's no surprise that its diverse lineup includes a miniature model. So this Taylor BT2 review is about a little guitar affectionately called the Baby Taylor. Perhaps it can be compared to the Little Martin, as they are in the same price range, and both are suitable for travel, beginners, children, and people of small stature while having excellent quality materials and sound. So, with my pleasure, let me introduce you to BT2 in all its glory.
Body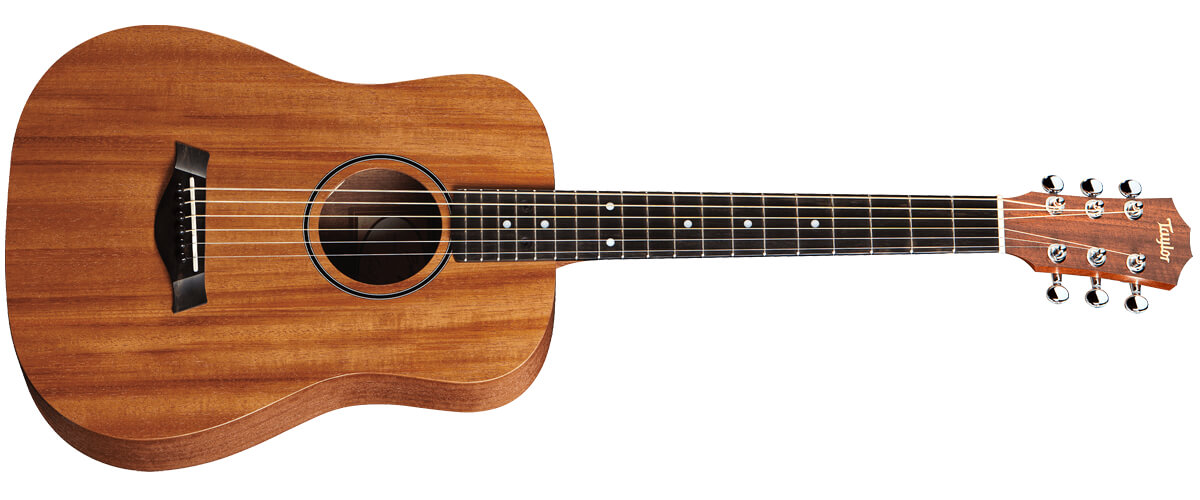 So, in shape and size, the Baby Taylor is similar to the Little Martin, which means it is ¾ of a full-size Dreadnought. The Top is made of Tropical Mahogany, and the cowl and back are made of Layered Sapele. This is not a bad claim for resonating properties, even though this size cannot give a loud, voluminous sound. The overall look is excellent due to the preservation of the wood grain on the Top and the Black Rosetta with thin white edging. A complete visual sense of the instrument's natural, original feel. The guitar has no notch, and there is no Pickguard.
As for construction stability, the Standard Baby X-Bracing is used here. I didn't find the Taylor BT2 to be flimsy or unreliable. Though it is positioned as a touring one, it is durable.
The general impression of the appearance and design is very pleasant, and the belonging of the tool to a famous brand is evident. For example, the bridge is made of high-quality African Ebony. As for many other Taylor models, you will find an excellent gig bag in the kit. A nice bonus.
Neck, fingerboard, headstock
The fingerboard, in terms of review, caught my attention. It was attached to the body using the Finger Joint technique, which allowed the heel to be removed. So it was easy to reach the upper register, even if I didn't have a cutout. In addition to this advantage, the Baby Taylor's fingerboard was very comfortable, with a pronounced curve and Matte finish.
The fingerboard is a nice touch, too, since it's made out of West African Crelicam Ebony, which sets it apart from the competition. This material has excellent tonal qualities, and in this model, the fingerboard looks simply gorgeous while maintaining its natural structure. Again, the marking is quite standard – 4mm Dot Italian Acrylic. The scale is 22.75 inches long and consists of 19 frets.
Even out of the box, the guitar was well-tuned, but I still tried the Taylor chrome tuners, even though I know them from other brand models. They are, as always, perfectly tuneable, and I suspect they hold the tuning pretty well. Though, to be honest, I didn't have a chance to check it by playing for a long time. However, the BT2 withstood my hard knocks on the strings with dignity. It remains to be noted that the saddle is made of micarta, so I would replace it if I were you.
Sound quality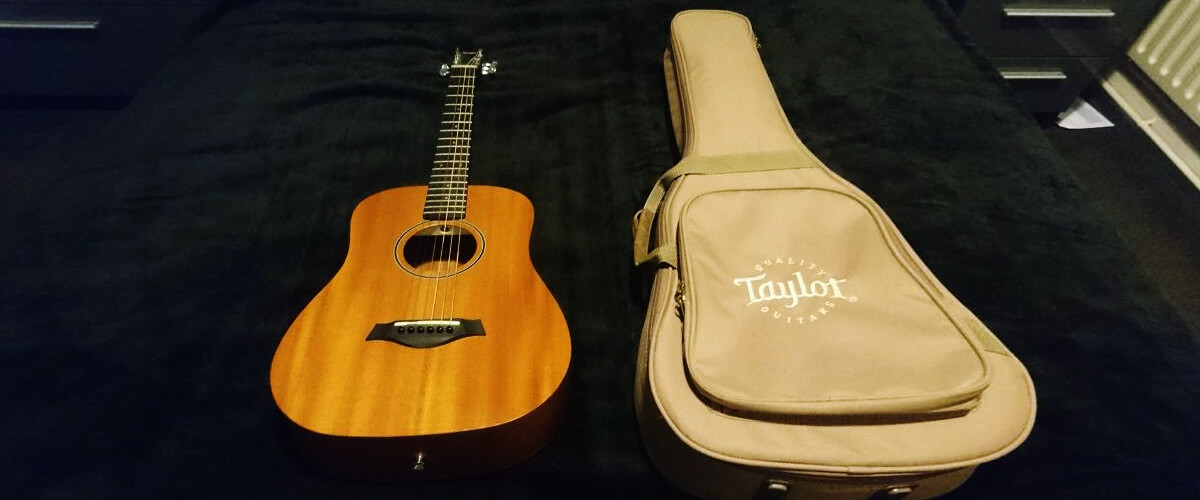 So, in conclusion, what is the sound of the Taylor BT2? I've already mentioned that it just can't be loud because of its size, but it's not quiet, either. The bass and midrange are at a high level, audible clean, and clear when I play with my fingers. Every note can be heard, the gamut is not blended, and the overall tone is nice and soft.
It is a worthy competitor to other models in a similar category, including the Little Martin, which I highly appreciate. I can confidently recommend it not only to beginners, children, travelers, or women but also as an additional "take-away" guitar for any musician.
Key specs
Scale, in/cm: 22/55.8.
Frets: 19.
Fretboard radius, in/cm: 12/30.4.
Type: acoustic.
Body material: mahogany.
Neck material: maple.
Neck joint: glued-in.