If you're looking for a quality entry-level guitar, my Yamaha C40II review will be helpful for you. Yamaha knows how to make music, so even with inexpensive models, you can find details that put the company's products at the top of the ranks among competitors' models of the same rank.
A full-size acoustic instrument (without electronics) offers us quality worthy of the legendary brand, attractive design, pleasant surround sound, and versatility at an extremely affordable price. Any beginner would be proud of such an acquisition, and for more experienced players, the guitar can serve as an additional/replacement guitar in the collection. So let's take a closer look at it.
Body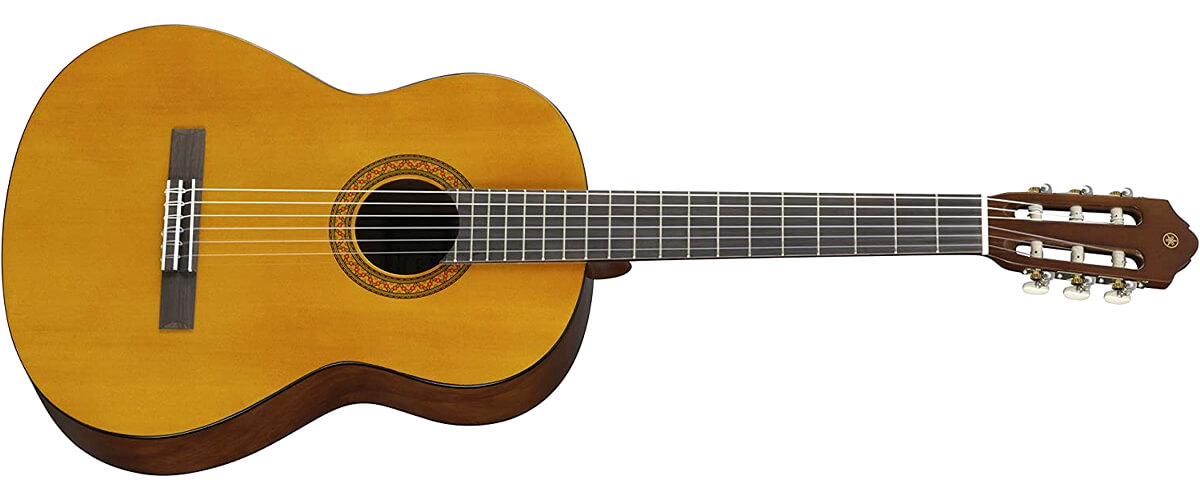 The guitar is a Classic guitar and does not have a cutaway. It is very lightweight, so it is easy to carry to class, take on trips, or use at home. The top is made of Spruce, so despite the apparent economy of materials, the guitar has a great warm tone. The sides and backrest are made of Locally Sourced Tonewood. In this case, it's Meranti plywood, a type of Mahogany. The whole surface is Gloss, shines beautifully in the light, and is resistant to external influences. And a very nice ornamented Rosetta completes the image, by which you can recognize this model. I liked the guitar's look, and it didn't seem cheap, though I would treat it carefully. There is a feeling that its coating is not very resistant to impact, although the construction itself is quite sturdy.
To conclude the design description, perhaps we should mention the Rosewood Bridge, which fits perfectly into the overall image. And also the nylon strings, which are ideal for beginner players.
Neck, fingerboard, headstock
The neck of the Yamaha C40II is classic, very comfortable to hand, and definitely suitable for those who are just starting their way as a guitarist. It is made of Nato and has a Matte finish. The Rosewood pad is dark and blends nicely with the overall style, but it has no markings for some reason. It was a surprise for me. If a manufacturer positions the model as an entry-level one, why didn't they make it easier for a beginner to navigate on the fingerboard? Of course, one can get used to anything, but that's strange.
There are 18 frets on the 22.8″ scale. It is a normal amount for a classical guitar, but access to the upper registers was very convenient despite the lack of a cutaway.
I like the headstock guitar. Made in the Spanish style, it fits perfectly into the design. It has Urea nut and beautiful and reliable chrome pearloid tuners (RM-1252X), which is good for such an inexpensive model. The guitar sounded pretty good out of the box, but I tried the tuners anyway. They are soft and hold the tuning well, although such things should be tested over time.
Sound quality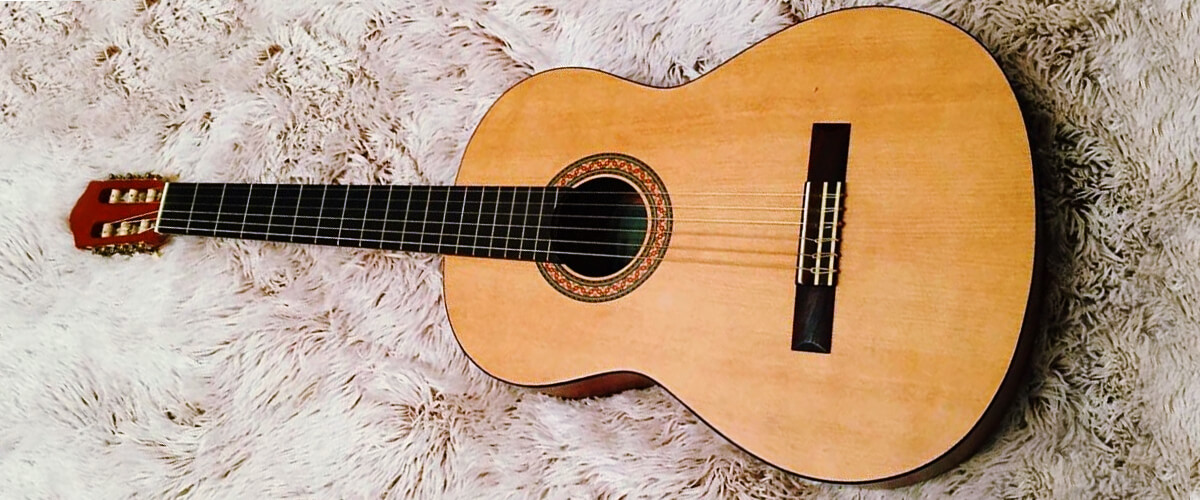 All that's left to say about the Yamaha C40II sound. Well, as I said before, it is made of simple, inexpensive (but reliable) materials, so it will not give you the sound of natural wood. But its sound is nice and voluminous, though not deep and powerful. I don't think this is a drawback if we talk about an entry-level guitar. While playing, the resonance was good, and the notes sounded smooth and clear. I didn't hear any pronounced high or low frequencies, and everything was smooth and soft, which is not surprising for nylon strings.
Key specs
Scale, in/cm: 25.9/65.
Frets: 19.
Fretboard radius, in/cm: 14.9/37.
Type: acoustic.
Body material: tonewood.
Neck material: tonewood.
Neck joint: glued-in.